Dancers, dance teachers, or students, you may at one time or another find yourself choreographing for amateur (or even high school) theatre.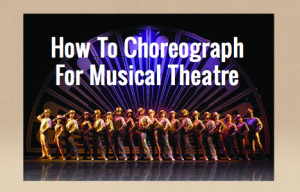 Having participated in community productions as a child and in my adulthood, I consider it a wonderful opportunity for people from all sectors of the public and workforce to come together and work toward a common goal, as well as an occasion to bring a variety of plays and musicals to local residents that may not otherwise attend live theatre.
If you are a dance teacher or choreographer, it can also be an opportunity to showcase your skills to a wider audience than which you encounter within your local studio or dance company.
Approaching Choreography for Musical Theatre
When approaching choreography for musical theatre, it is important that the strategy differs from that of a recital dance production.
This may seem obvious but it happens sometimes that teachers or students new to choreographing musicals tackle the job in this familiar way. I'd like to offer an  approach to this particular creative process by looking at the various components of choreography for the stage and suggesting tips for effective preparation and collaboration. I hope that it will smooth the process for those new to creating movement for a musical production.
The Script
Read the script. A few times if possible, so that you really get a feel for plot, its characters, and how and why the musical numbers fit within the text. (If you've seen the musical, don't rely on that particular interpretation. There may be drastic differences.)
Know the show inside and out. It will make your job easier in the long run! Imagine how things might look on the stage. Take notes on what you visualize, particularly as it relates to the musical numbers.
The Score
Study the score (not just the libretto). A copy of the piano, or rehearsal, score typically includes the vocal line and  the essentials of underlying music – this is very helpful to choreographers.
Concepts and terms you'll need to understand:

Multiple Staves– A staff is 5 lines in a group, usually with a clef symbol on the left. In a theatrical score each 'voice' or instrument is likely to have its own staff. These staves are connected by brackets to show what is being played/sung at the same moment.
Basic Notation and Time Signature – Note/rest values and how they are counted within the context of the measure/time signature. Understanding rhythm as it's shown on the page.
Common "Mood" Indicators – Symbols and words used in notation that indicate volume, tempo, and dynamics of what you will hear.
Get a copy of the Broadway soundtrack. If you can, try to follow along in your copy of the score. Keep in mind that these will probably NOT be identical. Make note of these changes, if you can.
Discuss with the Musical Director any cuts he/she is making within the score. Long dance breaks can be excruciatingly long with amateur dancers – it's okay to suggest not taking that second repeat!
The Staff
Hopefully in the first production meeting, the Stage Director, Musical Director, Choreographer, and Set/Lighting Designer(s) will be present to discuss the overall vision/direction for the show which is ultimately decided by the Stage Director.
Stage Director
Discuss each musical number individually with the director. You may not be responsible for every number in the production as not all may require your choreographic skills – this will need to be determined.
What to discuss:
Where the actors will be at the top (or beginning) of the musical introduction.
Where the actors should end up physically at the conclusion. (The director may not yet have answers for this but this information is important for creating seamless transitions in your choreography. Knowing it sooner rather than later is always helpful as you create choreography)
How the characters have been affected or changed by the conclusion of the song. Does it move the plot forward?
Your interpretations of the musical style and how this affects movement quality. (Do you see it as athletic? A soft shoe? A Fred & Ginger-style number?) And, your feelings about what types of experience or abilities the actor should have. (Be prepared to adapt these once the chosen actor is in place).
Musical Director
Work closely with the Musical Director on song tempos (what works best for the song, dance, and singers). Remember, when creating choreography that the movement should not inhibit the vocalists ability to sing what's required (particularly in solo work). Use dance interludes and/or a dance ensemble to show off big, "dance-y" choreography.
If you don't read music, you will be relying on the director or pianist to make a recording (with appropriate cuts) of the music for the purposes of creating choreography. Unless you have a rehearsal accompanist, this may also prove useful during choreography practice.
Discuss and stay informed regarding the set design and be persistent about your spatial needs. I've often found myself with a smaller-than-originally-planned space in which to squeeze a 40-member cast for a full-company production number. Sometimes even the best-laid plans must be adjusted. Politely ask designers to keep you informed of these changes.
The Movement
Research social dances of the time period in which the musical is set and find ways of incorporating these into your choreography.
Try improvising to explore and find movement. At this stage the music you use for inspiration does not need to be music from the production, just something that gets ideas flowing. Once you have a vocabulary of movements for the character(s) or event, try drawing from that vocabulary to create the dance.
Familiarity with the Broadway or movie choreography of the musical can prove very helpful. For more than just ethical reasons, it is not a good idea to copy or recreate it movement for movement. One, your actors probably do not have the same skill set as the actors in a professional production and, two, the choreography will lack integration with the rest of the show. Look and then leave it! The overall impression of the professional version will likely stay with you, helping you to create something that is reminiscent of the original yet uniquely your own.
Create variations on a theme and don't be afraid to re-use movement. Many novice choreographers make the mistake of creating one long string of new movements. Just like in music, the audience enjoys recurring motifs and patterns.
Keep things simple, particularly in large group numbers. Use a core group of capable dancers, if you have them, for more intricate or spectacular choreography and use a lot of every day movements and gestures for others.
Consider how you use the stage space — create floor patterns, have actors interact and move around/with each other, and use the set. You wouldn't believe how many amateur or high school productions I've seen that feature dancers lined up and facing forward during each musical number.
The Talent
Great musical theatre choreography does not necessarily require complex movement or staging. Much of the time, great theatrical choreographers are marked by their ingenuity. In many cases, a community theatre is made up of individuals without any formal dance training. If this reflects your situation, you must be able to work with what you've got.
Get your actors' input. Whether it is relying on them to come up with a few gestures, allowing them to try different things and make choices, or drawing from their thoughts on the show or their characters, they will appreciate the collaboration if you are clear with instructions. Just like in classes for young children or beginners, be wary of giving directions that are too "open-ended." Actors may also benefit from improvisational exercises to develop movement for their characters.
Communicate with the director about your actors' needs throughout the rehearsal process. Community theatre participants will generally require more rehearsal than you might anticipate. Also, I've found that some actors really appreciate rehearsal notes that they can take for home practice. Be generous and be patient, providing extra help if you are approached.
What are your experiences with Community Theatre or choreography for musicals?
Have you choreographed productions with professional actors? How is this different from an amateur setting?

How does choreographing a show for high school students differ from community productions?
What did I leave out? You are welcome to add tips or your thoughts on the process below.
Kindly follow, like or share:
Nichelle Suzanne is a writer specializing in dance and online content. She is also a dance instructor with over 20 years experience teaching in dance studios, community programs, and colleges. She began Dance Advantage in 2008, equipped with a passion for movement education and an intuitive sense that a blog could bring dancers together. As a Houston-based dance writer, Nichelle covers dance performance for Dance Source Houston, Arts+Culture Texas, and other publications. She is a leader in social media within the dance community and has presented on blogging for dance organizations, including Dance/USA. Nichelle provides web consulting and writing services for dancers, dance schools and studios, and those beyond the dance world. Read Nichelle's posts.