Welcome back to the circle!
I hope you're having fun with Why Dance Matters this week. It's been a blast of inspiration to see the many ways you express why dance matters to you, your community, your kids, your students, your world!
Don't forget we love your videos and slideshows, too. Share/post them in any of the above locations and just make sure I see them!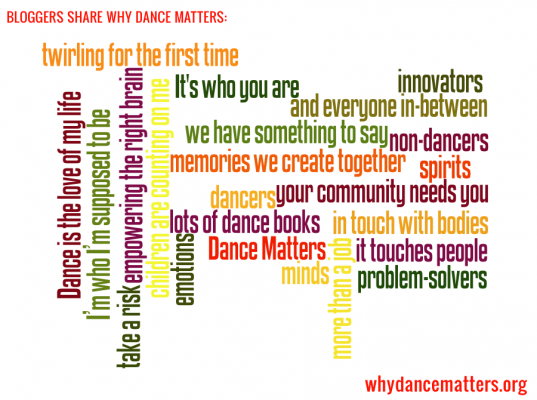 Why Dance Matters around the Interwebs
This is what folks in our blogging circle have to say about Why Dance Matters:
Tiffany talks about her late start in dance and asks her readers (dancers, non-dancers, and everyone in-between) why dance matters.
Board certified dance/movement therapist, Lora Wilson Mau, reflects on "Why Dance Matters," sharing memories from her clinical and personal life.
"We are all welcome here and we have something to say and we shall say it with our bodies." – Lora Wilson Mau
Donna affirms that dancing expressively not only helps people be in touch with their bodies, but with their emotions, their minds, their spirits ~ in fact, with their whole beings.
Books. Lots and lots of dance books.
Dance matters because it is something that everyone can do: the 1 1/2 year old girl trying out her dress twirling for the first time, and the 90-year-old grandma who refuses to quit dancing.
Sheri Leblanc's Tumblr post includes some of the most inspirational dance quotes on why dance matters, what makes it unique and how it touches people.
Maria is known for advocating for early childhood dance education. In her Why Dance Matters post she talks about why she teaches dance and how it benefits her and her students the most.
Dance matters because so many children are counting on me to be their role model, to teach them dance steps, to play the music for free dance, for tight hugs, for goodbye dances, for smiles, for creativity, for a safe and comfortable space, for a listening ear, for boundaries, for sparkles and stickers, for direction, and for an adventure every week. Dance matters because I am responsible for the dance education of my littles, for the memories we create together, and for the friends they make. – Maria Hanley
It's more than a job. It's more than passion. It's who you are. Cait describes why dance matters to her.
Most posts describe in some way or other why dance matters to the writer. This time, the question was asked of the readers – who were only too happy to reply!
This is a short, simple poem on why dance matters. Like all poetry, Alaina says you may take from it what you will. Please enjoy.
In this post, Stefanie shares why dance matters to her and how it has deeply affected her life. From age 5 to 34, from ballet to ballroom, Stefanie chronicles her journey with dancing and how it has helped her to come alive.
"Dance is the love of my life.  But I had broken up with dance.  I had abandoned it because it wasn't "practical" and because I'd never be "good enough." – Stefanie
Sasha goes from work to class or rehearsals multiple times per week. "Why?" her friends ask. Sasha shares her answers with you.
The Healthy Dancer describes ways that dance allows us to tap into the powers of the right brain hemisphere to make a difference.
"Dance matters because it enables us to use our right brain to accomplish what the left brain may deem impossible." – The Healthy Dancer
When you are struggling to make ends meet as a dance instructor or studio owner, Shelly reminds you that dance matters in your community! Your community needs you to share your love of dance.
Sheena illustrates that dance creates problem-solvers, creative innovators, and individuals with strong work ethics, pointing out the many reasons why dance matters.
Katarina outlines why she puts up with injuries, soreness, pain, and so many hours in the studio.
Melanie Doskocil pens a review/op-ed piece about how dance can stimulate us to think, question and converse. The author describes a recent outing to the "ballet" Hubbard Street Dance Chicago. She ponders why audiences seem more willing to take risks on music and theater than they do on dance.
The dance bloggers have spoken. Now it's your turn!
Why DOES dance matter?
Which of the above posts really struck a chord?
Kindly follow, like or share:
Nichelle Suzanne is a writer specializing in dance and online content. She is also a dance instructor with over 20 years experience teaching in dance studios, community programs, and colleges. She began Dance Advantage in 2008, equipped with a passion for movement education and an intuitive sense that a blog could bring dancers together. As a Houston-based dance writer, Nichelle covers dance performance for Dance Source Houston, Arts+Culture Texas, and other publications. She is a leader in social media within the dance community and has presented on blogging for dance organizations, including Dance/USA. Nichelle provides web consulting and writing services for dancers, dance schools and studios, and those beyond the dance world. Read Nichelle's posts.