This giveaway is now closed to new entries.

Check the Spring Fever main page to enter those still open.
Welcome to DAY FIVE of the Spring Fever Giveaway 2011!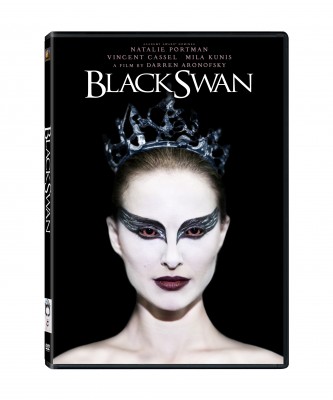 Today's giveaway comes to us via Twentieth Century Fox Home Entertainment.
If you saw it in theatres, you know BLACK SWAN is a film dancers will want to have in their home library. The movie debuts on Blu-ray or DVD on March 29th from Twentieth Century Fox Home Entertainment (Follow on Twitter @FoxHomeEnt).
As you probably are aware, BLACK SWAN stars Natalie Portman in her Academy Award® winning role. The seductive and haunting Best Picture nominated film is directed by innovator Darren Aronofsky (The Wrestler) and boasts a wealth of talent including Portman (Closer), in the performance of her career, as well as Mila Kunis (Date Night), Winona Ryder (Girl, Interrupted) and Vincent Cassel (Ocean's Twelve).  Daily Variety hailed it as "…wicked, sexy and ultimately devastating… fascinating."
The Giveaway
TWO Dance Advantage readers will win a DVD copy of the electrifying thriller, BLACK SWAN, available on BLU-RAY and DVD MARCH 29.
View the trailer for BLACK SWAN on YouTube:
How To Enter:
Enter to win your own copy of BLACK SWAN on DVD by leaving a comment at this post, answering the following question: What is New York City Ballet new season's opening production in BLACK SWAN?
Is it…?

Coppélia
Le Corsaire
Swan Lake
Should be a no-brainer!
This giveaway is open to those in the United States and Canada and will close Tuesday, March 29 at Midnight EDT.
Please note that this film is Rated R and that you must be 18 or older to enter the contest.
Winners will be randomly drawn and contacted within one week from today. I hope you win!
Check back tomorrow for yet another giveaway.
Once contacted via the email used to comment, winners have only 48 hours to respond and claim their prize. Each giveaway is treated as a separate contest. Subscriber PLUS members are given daily opportunities to earn additional entries on each giveaway. PLEASE READ our giveaway policy before entering.
Kindly follow, like or share:
Nichelle Suzanne is a writer specializing in dance and online content. She is also a dance instructor with over 20 years experience teaching in dance studios, community programs, and colleges. She began Dance Advantage in 2008, equipped with a passion for movement education and an intuitive sense that a blog could bring dancers together. As a Houston-based dance writer, Nichelle covers dance performance for Dance Source Houston, Arts+Culture Texas, and other publications. She is a leader in social media within the dance community and has presented on blogging for dance organizations, including Dance/USA. Nichelle provides web consulting and writing services for dancers, dance schools and studios, and those beyond the dance world. Read Nichelle's posts.