Looking for a recital, end-of-year, or grade school graduation gift for your young dancer?
Want something that's special and unique?
I was sent the following picture books from Barefoot Books for review and found them to be as educational as they are beautiful.
With lush illustration, a story CD, and details that take the reader beyond the story, these are gifts that will grow with a child and garner appreciation from adults as well.
The Barefoot Book of Ballet Stories
Written by mother/daughter team, Jane Yolen and Heidi E. Y. Stemple, this book includes the stories of 6 classic ballets: Coppélia, Swan Lake, Cinderella, The Nutcracker, The Sleeping Beauty, and Daphnis and Chloe. Both writers studied ballet growing up – Jane, at the the School of American Ballet – and stay connected to ballet through Heidi's daughter who dances with Amherst Ballet in Massachusetts, where they all live.
E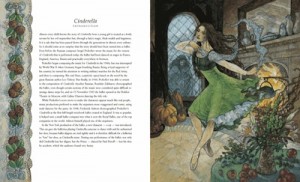 ach story is introduced with a one-page description of the ballet, featuring interesting facts about its creation, creators, and dancers. The stories read very much like classic fairy tales, with elegant dialogue and descriptions, making this appropriate reading for school-aged children.
Artist Rebecca Guay's rich illustrations, teachers and lovers of ballet will be happy to know, depict dancers in aesthetically and anatomically accurate poses and leaps.
The story CD is narrated by stage and screen actress Juliet Stevenson (Emma, Bend It Like Beckham). Short excerpts of each ballet score are played at the introduction of the story but it is Stevenson's refined vocal talent that make the stories come alive for those reading along.
The Barefoot Book of Dance Stories
There is much about Dance Stories that is similar to the above collection of Ballet Stories. Once again authors Jane Yolen and Heidi E. Y. Stemple don't simply present charming prose (this time folktales from around the world), they offer educational tidbits about the actual dances prominent in each narrative.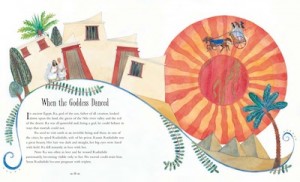 This time the Table of Contents offers a paragraph or two introducing the story, the culture, and the dance for each of the 8 tales in the collection. Below is a list of what is included:
The Twelve Dancing Princesses — Germany — The Waltz
Robe of Feathers — Japan — Noh Dancing
Making the Stone Smoke — St. Vincent, West Indies — Limbo
The Shepherd's Flute — Spain — Flamenco
Dancing with the Birch Fairy — Czech Republic — Polka
When the Goddess Danced — Egypt — Belly Dancing
Tam O'Shanter — Scotland — Scottish Reels
The Little Bird Who Went Dancing — Mali — Malian Dance
At the end of the book, a full page is dedicated to providing further information on the costumes, movement qualities, and an introduction to learning or watching each cultural dance. Like the Ballet Collection, a useful Bibliography is included for those who want explore further.
Helen Cann's illustrations are as colorful as the stories they accompany and once again Juliet Stevenson narrates the story CD with sophistication.
Aside from The Twelve Dancing Princesses, these folktales were not familiar to me and I learned something new about each dance form represented. Again, a wonderful gift for any young dancer or dance teacher, or a superb choice for your dance or school library. This book is useful and unique in its wider representation of dance throughout our world and exemplary samples of both the quality and mission of Barefoot Books.
For more about Barefoot Books, their beginnings and goals for publishing, watch this video:
Barefoot Books - Our Story
I encourage you to visit their website and explore the wonderful array of children's literature Barefoot Books has to offer. Encompassing art, environmentally conscious lifestyle, global cultures, and learning tools, all are works of art themselves.
In addition to the above dance-related collections, I was also sent the Yoga Pretzels card deck, My Daddy is a Pretzel, and The Gigantic Turnip. Like the dance story books, My Daddy is a Pretzel by world-renowned yoga instructor, Baron Baptiste presents an engaging narrative and educational instruction and background on a variety of yoga poses. Coupled with the card deck, parents and instructors will have fun using these resources to introduce Yoga to the children in their lives. The Gigantic Turnip, also a story and CD combination, is another gorgeously illustrated story about working together.
Another I'd like to add to my bookshelf award-winning, The Animal Boogie by Debbie Harter (with singalong CD by Fred Penner). Geared for ages 3-7, this book would make a great gift for young movers!

Look for more videos at the BarefootBooks YouTube channel.
What dance-related books do YOU love? Tell us in the comments!
Kindly follow, like or share:
Nichelle Suzanne is a writer specializing in dance and online content. She is also a dance instructor with over 20 years experience teaching in dance studios, community programs, and colleges. She began Dance Advantage in 2008, equipped with a passion for movement education and an intuitive sense that a blog could bring dancers together. As a Houston-based dance writer, Nichelle covers dance performance for Dance Source Houston, Arts+Culture Texas, and other publications. She is a leader in social media within the dance community and has presented on blogging for dance organizations, including Dance/USA. Nichelle provides web consulting and writing services for dancers, dance schools and studios, and those beyond the dance world. Read Nichelle's posts.