Dance bloggers, are you ready to start the year with a bang?
Participate in our contest and let your readers choose you as a 2013 Top Dance Blog.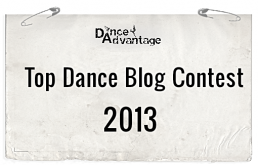 Round ONE — Enter
Step 1 — Decide which of the following categories is the best fit for your blog:
Career Dancer (Pre-Pro/College/Professional) – Pros or pros-to-be discuss the dance lifestyle
Recreational Dancer – Teen or adult dancers discuss classes, making time for dance, and more
Dance Organization/Artist – Companies or choreographers talk performance, process, production
Teacher Talk (Education/Training/Instruction) – Dance class topics; teacher to teacher OR teacher to dancer
Speaking Dance (Dance News/Review/Criticism/Audience Education) – Covering the dance world for audiences
Industry Support – Business to business, marketing for dancers, and other dance industry shop talk.
Categorizing is never perfect but do your best to choose just ONE of these categories.
Editor's Choice
From our participants, Nichelle will choose a blog she feels is noteworthy or up and coming, regardless of comment count or readership. This blog will receive the Editor's Choice award.
Step 2: Publish a blog post about the contest.
In YOUR post, ask readers to show support of YOUR blog with a comment on YOUR post.
You have until Tuesday, January 22 to round up as much comment support as you can.
Step 3: Enter with a comment on this blog post (the one you're reading now) and tell me…
Which category you are entering under.
The permalink to your blog post about the contest.
Round TWO — Finalists
As soon as you publish your post, start promoting it and encouraging comments!
Though any blog can enter, only blogs with the most comments on their post will be finalists in the voting round.
Comment support will be compared in all participating blogs. The 20 blogs with the most support will qualify as finalists and compete for the Top Dance Blog title.
The blogs that receive the most comments will also be eligible to compete for the top spot in their category.
Round THREE — Voting

On January 24, I will open the Top 20 and category finalist polls.
Even if your blog does not make it to this final round, you will be given special mention as a participant in the contest with a link to your blog.
From Jan 24 – 31, if you are a finalist, send as many people as possible to vote in our polls and secure your ranking.
Voting ends at 10pm EST on Jan 31st. Readers' votes will be tallied and the results posted on February 2.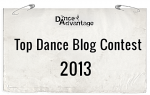 Dos and Don'ts (The Rules)
DO add our contest logo. (Right-click/Save-as the image above)
DO link back to this post. Here's the URL: https://www.danceadvantage.net/2013/01/07/be-a-top-dance-blog
DO make it clear to readers that they should show their support by commenting on YOUR post about the competition (not mine).
DO encourage your commenters to share why they read your blog, what makes it special, or which are their favorite posts.
DO monitor and delete any duplicate comments from your readers.
DON'T be sneaky about comments. Please, do not offer incentives to commenters or pad your comment count in any way. Your blog will be disqualified.
DON'T mention competing blogs (positively or negatively) in your entry. Keep your post about you.
What do I get if I'm a Top Dance Blog winner?
Engagement: Winner or not, every blog is noted as a participant and each is given an opportunity to engage their readers.

A Badge: Winners receive a badge to display on their site. Those in the Top 20 receive a badge with their rank. Those with the most votes in their category receive a badge also.

A Feature: Category winners will be highlighted together in an article on Dance Advantage. The Top 20 winner will receive their own dedicated feature.
Got Questions?
A list of frequently asked questions can be found here.
If you have questions that aren't answered on that page, feel free to comment below.
Kindly follow, like or share:
Nichelle Suzanne is a writer specializing in dance and online content. She is also a dance instructor with over 20 years experience teaching in dance studios, community programs, and colleges. She began Dance Advantage in 2008, equipped with a passion for movement education and an intuitive sense that a blog could bring dancers together. As a Houston-based dance writer, Nichelle covers dance performance for Dance Source Houston, Arts+Culture Texas, and other publications. She is a leader in social media within the dance community and has presented on blogging for dance organizations, including Dance/USA. Nichelle provides web consulting and writing services for dancers, dance schools and studios, and those beyond the dance world. Read Nichelle's posts.