When you're working with small costume budgets, as I do when I choreograph on college students, or needing to add something to that 'almost perfect' costume, as I've also been known to do, finding the right colors for costume pieces can be tricky.
It's got to be scarlet red, not cherry red or burgundy red, to match that asymmetrical top you found at the overstock store. And only bronze dance trunks will go with that unique seafoam and bronze dance dress from the catalog… You've been there, right?
That's where I was when I first stumbled across BDancewear.com – looking for just the right color of something. I ended up not needing to purchase – we went in another direction – but I definitely filed the site in my mind because they offer nearly 40 types of dancewear basics in over 200 colors, in an array of fabrics.

Cyndi Marziani is the owner of B Dancewear and has only recently decided to take her years of costume creation experience to a national customer base with the help of her son. Having already been somewhat familiar with the company, I was happy to agree to review some products when they approached me.
Of all their products, I decided to take a look at the high-waisted dance shorts which are becoming very popular, the high-waisted palazzo pant (I am a modern dancer, after all), the dance tank top, and out of curiosity, the convertible dance dress.
Fabrics Galore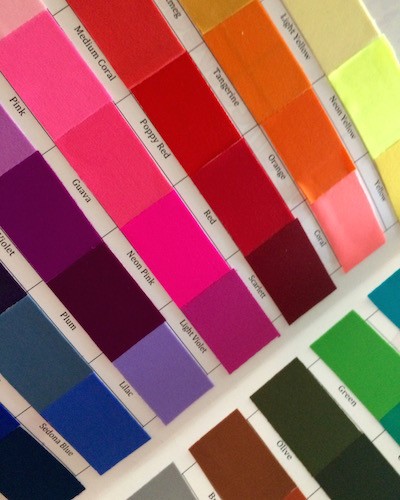 Cyndi generously sent some of these items in a couple of different fabrics to compare, along with full color cards for each of the type of fabrics available, which include Lycra, Shiny Lycra, Cotton, Holographic, Velvet, and Mesh.
Fabric swatches are available to order from BDancewear.com free of charge. The full color cards I received can be sent to dance studios for free, but the delivery address must be the dance studio itself. If you plan to do much purchasing as a studio, I would definitely recommend having these on hand. It was very helpful to see the fabrics up close for color matching. The online color images are fairly true on my screen. (At least, I doubt you'll see gold where I see blue!) But, of course, digital color will never be exact, tending to look a little darker than in reality.
If it's important to have a good match, get swatches to compare before ordering. They're free!
Dancewear Designs
As mentioned, I took a look at four different products. All were well made, felt substantial (not flimsy), and worked well in the fabrics chosen. Do consider the purpose your dancewear will serve before you order a particular fabric. For example, cotton can be perfectly breathable for class but is not always the sharpest look for the stage. I received the convertible dance dress in both cotton and lycra. The lycra would be perfect for a costume piece. The cotton, I'd be more likely to wear for practice or for a day at the beach.
I was pleased to find that the sizes available matched typical clothing sizes. This is especially important, I think, for adult dancers who are frequently disappointed that an adult medium in some dancewear fits more like a small or "junior" medium. Not to mention the items at BDancewear.com are offered up to Adult XXL. How often does that happen in the dancewear industry?
Here's a little more detail on the four items I received: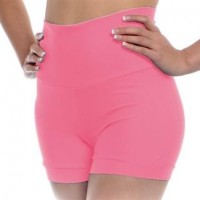 High-Waist Dance Shorts: I liked that these felt like shorts and not a boy-cut brief (which are offered, if that's what you prefer). They've got a clean hem and the the roughly 5 1/2″ waist can be worn up (particularly on long torsos) or rolled down.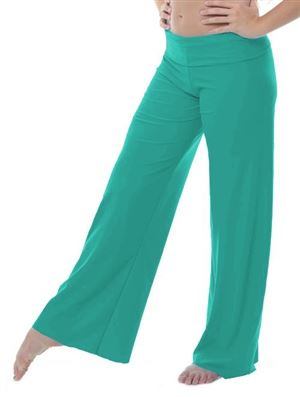 High-Waisted Palazzo Pants: These are a nice wide-legged cut and the waist, as above, can be folded over. I found the standard normal length (which I believe you can see in this photo) a little long for my taste even though my leg length is usually average. It came to the floor which can be a hazard for barefoot dancers so I would probably want to hem them. There is an option to request more length on the website but perhaps less length could also be offered. Take your dancers' measurements and check the sizing chart so that you're prepared for any alterations that may need to be done.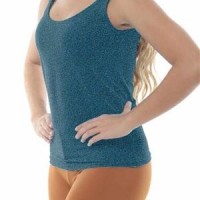 Dance Tank Top: This is a dance staple. The dance tank had good coverage and wider straps, which is nice for comfort and modesty. Because these are costume-style fabrics, the tank didn't quite have that 'cozy' feeling that some jersey knits do but it would look great on stage. I like that this dance tank comes to the hips and I was glad to see that the white, holographic tank I received was lined.
Covertible Dance Dress: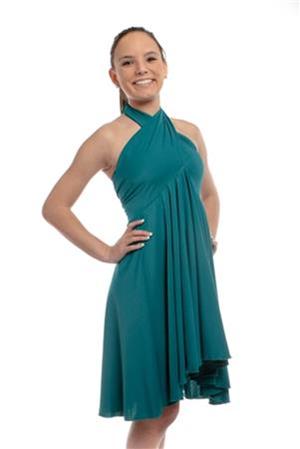 The website says this dress can be worn at least 15 ways. I'm not sure I figured out what all 15 of them are but it's definitely a versatile piece that would work well for costume variation among the dancers in a piece of choreography. I like the halter look and the possibility of just wearing it as a skirt. Keep in mind that the "bodice" portion is a single layer of fabric and is not likely to suffice on its own in terms of coverage or support for women with larger busts. Either way, a flesh leotard or bra top underneath is a practical addition.
B Dancewear is filling a common need in the dance industry with a line of quality products that gives dancers and choreographers options and versatility in their dancewear or costuming choices. Certainly check them out the next time you find yourself looking for just the right match.
For additional information on the company and more clothing reviews, visit our friends at 4dancers for their take on BDancewear.
Though B Dancewear has advertised on this website in the past, Dance Advantage did not receive compensation for the publishing of this review. Products were provided at no charge. The thoughts within are the author's own words and opinions, not those of the advertiser.
Kindly follow, like or share:
Nichelle Suzanne is a writer specializing in dance and online content. She is also a dance instructor with over 20 years experience teaching in dance studios, community programs, and colleges. She began Dance Advantage in 2008, equipped with a passion for movement education and an intuitive sense that a blog could bring dancers together. As a Houston-based dance writer, Nichelle covers dance performance for Dance Source Houston, Arts+Culture Texas, and other publications. She is a leader in social media within the dance community and has presented on blogging for dance organizations, including Dance/USA. Nichelle provides web consulting and writing services for dancers, dance schools and studios, and those beyond the dance world. Read Nichelle's posts.