Dancers are athletes!
Regardless of whether or not you consider dance a sport, it's hard to argue that a high level of athleticism is required of dancers in the 21st Century. The rigorous training and performance regimen of elite dancers is equivalent to that of top athletes in other fields.
Like athletes, dancers are always exploring ways to improve performance and stay healthy– optimizing nutrition, exercise, and wellness in every way possible, including applying "alternative" or more holistic solutions to many important areas of their dance lives.
This is where essential oils come in. We've seen these natural compounds, which are extracted from plants (or parts of plants), consistently recommended by dancers and experts in dance publications. Typically, it is suggested the dancer use them aromatically. However, oils that meet the standard of CPTG (Certified Pure Therapeutic Grade) can also be a benefit when applied to pressure points or taken internally. No matter how you use them, essential oils are a useful tool for supporting the bodies of dancers in natural ways.
I'm no longer dancing and performing at a professional or elite level. Now that I'm approaching middle age, however, I'm feeling the wear and tear of many years of teaching, jumping, and rolling around on inadequate dance floors. In addition, over the last 2 months I've started running. After being introduced to doTERRA essential oils by a friend, I decided to give their Athlete's bundle and a few other products a try.
Athlete's Kit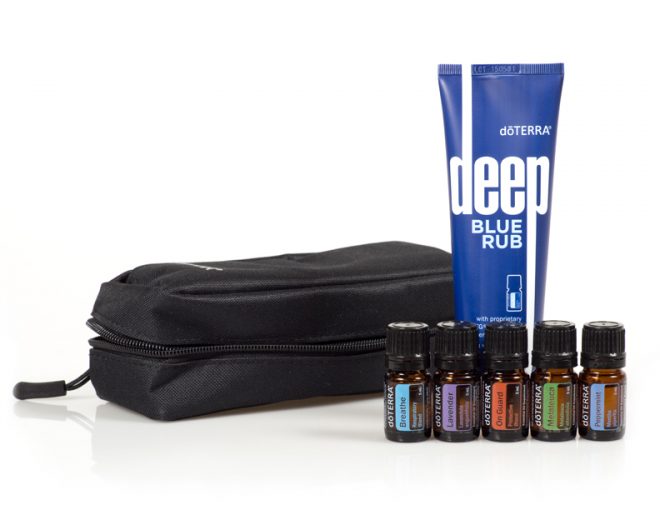 Founded in 2008 (the same year as Dance Advantage), doTerra is a company committed to providing the highest quality and purest essential oils to homes around the world. Their Athlete's Kit is designed to support healthy athletic activity, while counteracting the taxing effects of exercise on the body and includes 5mL bottles of doTERRA Breathe, doTERRA On Guard, Lavender, Melaleuca, and Peppermint and a 120 mL tube of Deep Blue Rub in a compact, reusable zippered pouch.
Essential oils can support athletes in a few different ways: relief from achy muscles, immune support, and boosts in performance are primary goals for most athletes. Some oils may also help with relaxation or even odor-reduction for smelly gear. The Athlete's Kit actually addresses all of these.
Deep Blue Rub
doTERRA Deep Blue Rub is a cream you apply to the body. It is similar to other products you may have used before that create a sensation of cold and warmth to soothe sore muscles. The smell may even remind you of these other products. The cream is infused with the Deep Blue essential oil blend of Wintergreen, Camphor, Peppermint, Ylang Ylang, Helichrysum, Blue Tansy, Blue Chamomile, and Osmanthus. I noticed immediately that my skin did not feel sticky or greasy after applying the Deep Blue Rub. It absorbs into the skin much like a moisturizer so a little goes a long way. Once applied, the tingling sensation intensifies and lasts for quite a while. I like using the rub before I go to bed when my muscles are sore at the end of a long day but it would be comforting after class too as long as you or your dance buddies don't mind the distinctive wintergreen scent.
Breathe Blend
doTERRA Breathe is a blend of essential oils including Laurel Leaf, Eucalyptus Leaf, Peppermint Plant, Melaleuca Leaf, Lemon Peel, Ravensara Leaf, Cardamom Seed. My favorite way to use this blend is to put a drop or two in my hands and inhale but you can also put it on your chest, back of the neck, or bottom of the feet (those with sensitive skin may want to dilute with fractionated coconut oil) to promote that feeling of easy breathing and clear airways– especially useful this time of year!
On Guard Blend
doTERRA On Guard has a warm, spicy scent that is great when added to a diffuser to cleanse the air. You can also add it to water to clean surfaces but the blend of Wild Orange Peel, Clove Bud, Cinnamon Bark/Leaf, Eucalyptus Leaf, and Rosemary Leaf/Flower essential oils serve to protect against environmental threats.
Lavender, Melaleuca, and Peppermint Oils
These three oils are versatile and useful to have on hand.
Lavender, you may know, is used widely for its calming qualities. You can add a few drops to bathwater or linens to encourage rest and relaxation or dab a little on your temples before performances to ease nervousness or stage fright. Lavender can also be used for minor skin irritations.
Melaleuca, otherwise known as Tea Tree oil, is also handy for solving skin problems. I've used Melaleuca to fight acne breakouts and, because it is known for its cleansing and rejuvenating effect on the skin, some athletes use this oil to keep their feet and toenails healthy and free of infection.
Peppermint can provide a boost when your energy is low. It's a key ingredient in one of my other favorite doTERRA oil blends, Motivate. Peppermint also works well with Lavender for a soothing massage blend or you can put a few drops in your foot bath.
The Athlete's Kit above can be purchased when you Shop via the button below. (PS. I do not recommend purchasing doTERRA products from non-doTERRA retailers as you cannot be sure that what you're getting is the real deal.)

I became a Wellness Advocate after seeing how other athletes and dancers are using doTERRA essential oils and after trying the products. You don't have to be an Advocate or even a doTERRA member to get the Athlete's Kit. It retails for $100 and it's a simple, effective way for dancers or teachers to get started with essential oils.
Wholesale Customers can get the Athlete's Kit product bundle above for only $75.
If you'd like to become a Wholesale Customer and get 25% off doTERRA products, there's more information on that if you keep reading below.
Whether you buy the bundle above or not, I invite you to learn more about ways dancers and dance teachers might use essential oils in their daily lives by signing up for our Essential Oils for Dancers newsletter.
Supplementing with Essential Oils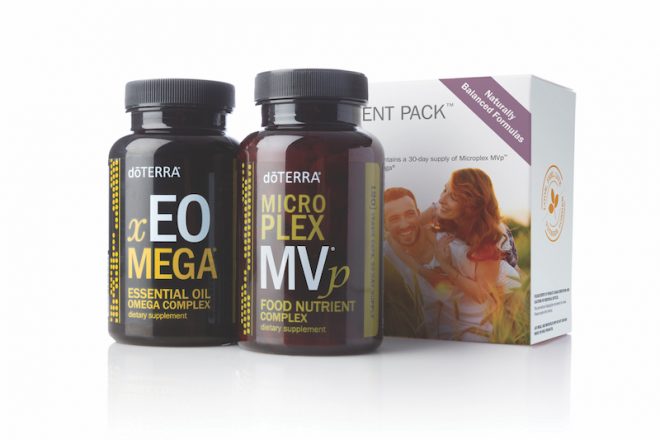 Daily Nutrient Pack
In addition to the Athlete's Kit, I decided to try doTERRA's Daily Nutrient Pack which includes Microplex VMz and xEO Mega dietary supplements. Microplex VMz provides 22 essential vitamins and minerals, including a botanical blend with greens like kale, broccoli, and spinach and a balanced blend of calcium, magnesium and other minerals. xEO Mega is an essential oil omega complex that's formulated with a proprietary blend of Clove, Frankincense, Thyme, Cumin, Wild Orange, Peppermint, Ginger, Caraway, and German Chamomile and provides a wide range of omega-3 fatty acids from marine and plant sources. Combined, these supplements are designed to support the body's natural functions and provide essentials nutrients.*
I've tried these in place of my normal multi-vitamin nearly every day for over a month, sometimes taking the full dosage and sometimes just half, and either way feel confident I am doing something good for my body by making sure I'm taking in quality nutrients that I'm not getting from my normal busy writer/teacher/mom diet. In particular, I notice that I feel my mind is less foggy on mornings that I take the xEO Mega.
Mito2Max
doTERRA's Mito2Max supplement provides an extra energy boost when you are tired or low-energy. For me, (again, busy writer/teacher/mom) that's pretty much daily. I take Mito2Max, an energy and stamina complex of standardized plant extracts and metabolic cofactors, on days that I go running in the morning. I actually regret it on the days that I forget.
Deep Blue Polyphenol Complex
Deep Blue Polyphenol Complex is another supplement that can be taken daily or as needed. Like the Deep Blue Rub this formula, which includes proprietary, standardized extracts of ginger, curcumin, resveratrol, and other polyphenols is designed to help with soreness, aches, and pains. Any dancers out there who don't have their share of these?
*These statements have not been evaluated by the Food and Drug Administration. This product is not intended to diagnose, treat, cure, or prevent any disease.
How To Save
Everything above (the 5 essential oils, supplements, and the rub) are included in a Wholesale Starter Kit for Athletes.
Becoming a Wholesale Customer is how most people get started with essential oils. Why? Because your wholesale membership allows you to save 25% off retail prices. If you've ever had a Costco membership, you know how this works – join and you save every time with no obligation to buy or sell.
Wholesale is the way to go. Here's how:
Click the Get Started button below, enter your language and country and hit continue.
Select "Wholesale Customer" (cannot sell doTERRA) or "Wellness Advocate" (can sell doTERRA) and then hit continue. If at any time you decide to sell the oils, you can upgrade to a Wellness Advocate account. Contact me using the form below if you'd like more info on creating an income in doTERRA.
Input your contact and shipping info.
Select your wholesale starter kit
Enter in your payment information and then hit "Process Order Now and Continue"

Unfortunately, the Athletes Wholesale Starter Kit is NEARLY SOLD OUT and may not be offered again by doTERRA so, if you're thinking about getting started with this starter, don't wait.
In fact, only the Spanish introductory literature for this starter kit is available and only while supplies last. (Don't worry, if you enroll and need your introduction packet in English, simply contact me using the form below and I'd be happy to send you what you need. I just don't want you to miss what is likely your last chance to enroll with a kit specifically geared to athletes). When these run out, you can still get started with any of the starter kits available.
I'm still learning about the many uses of essential oils for dance and all aspects of my life but I'm happy to have been introduced and I hope you are too!
Because this is a dance site and not an essential oils site, we won't be covering oils or doTERRA on Dance Advantage much beyond what you see above. However, if you want to learn along with me or share what you know, please do sign up for our Essential Oils for Dancers newsletter.
If you have questions about how to get started or become a Wellness Advocate, contact me:
[contact-form-7 id="44231″ title="Essential Oils for Dancers"]
Kindly follow, like or share:
Nichelle Suzanne is a writer specializing in dance and online content. She is also a dance instructor with over 20 years experience teaching in dance studios, community programs, and colleges. She began Dance Advantage in 2008, equipped with a passion for movement education and an intuitive sense that a blog could bring dancers together. As a Houston-based dance writer, Nichelle covers dance performance for Dance Source Houston, Arts+Culture Texas, and other publications. She is a leader in social media within the dance community and has presented on blogging for dance organizations, including Dance/USA. Nichelle provides web consulting and writing services for dancers, dance schools and studios, and those beyond the dance world. Read Nichelle's posts.