I was recently asked my thoughts on why I thought seasoned dancers often had mixed feelings about dance shows on TV.
In a moment, I'll give you the link to the interview, where you can read my full response but one small point I made was that lately there is a much broader variety of dance shows on television. With this, comes an increased opportunity (and responsibility) to invite new viewers of dance to tour the world and life of a dancer.
One new show I've been following closely, A Chance To Dance, will air its 4th episode on Ovation TV this week. I gave you a sneak peek of this with some video clips and tips before the show premiered on August 17. Since then, I've been tuning in and you may have noticed that Catherine from 4dancers and I are now helping to promote A Chance To Dance.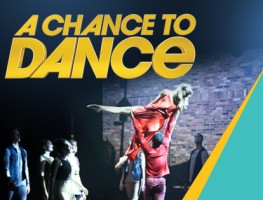 What's special about this one? Unlike most competition shows, it gives a pretty realistic view of the expectations dancers face as they seek to get hired and work within an ensemble. But, it also won't put the uninitiated dance population to sleep. Already, the show has included the following lessons:
That work ethic, respect, and a great attitude are crucial and will set you apart in an audition.
That you need to show confidence but check your ego at the door.
That noticeable enthusiasm for and willingness to work can sometimes take you a bit further should some of your skills be lacking.
That the ability to be creative, to improvise, and give something of yourself to your movement is a desirable skill set, and not everyone has it.
That there is more to landing a job than just technical virtuosity or impressive tricks or… any ONE thing.
That you may have incredible strengths as a soloist or in a particular style of dance, but you'll be limited without a strong technical foundation and ability to absorb quickly, especially when time is of the essence (and frankly, when is it not?)
And speaking of strong soloists…. if you can't be accurate and precise in a group, you'll end up p***ing people off upsetting those around you.
So, fellow teachers and dance tour guides, are you feeling me? I'd like to see more young dancers, seasoned dancers, and new viewers give A Chance To Dance a chance.
In the know about the show
What is A Chance To Dance?
It's an original Ovation TV series by the creators of SYTYCD.
It follows Michael Nunn and Billy Trevitt, two of the UK's most prominent contemporary dancers and choreographers (BalletBoyz), in their quest to create a new dance company for Nigel Lythgoe in just 28 days.
They've auditioned dancers from dance schools in Washington D.C.; Salt Lake City, Utah; and Austin, TX.
The final group heads to the dance mecca of Jacob's Pillow, where they must eliminate half the dancers and form a company for the grand finale: an original performance in New York.
A Chance To Dance airs Fridays at 10PM ET/7PM PT on Ovation.
Here's a clip of Nunn and Trevitt explaining their feeling that this show brings some "reality" to reality.
So, in case the above isn't motivation enough to tune in, Catherine and I are sweetening the pot with some contests. Here's the deal:
1. Twitter Trivia Swag Giveaway –
Answer our weekly trivia question on Twitter. Get a chance to win some swag!
Look for our trivia question starting now by searching #ACTDtrivia on Twitter. We're doing a different giveaway each week based on the upcoming episode, so tune in this week (Friday) at 10 pm ET/7 pm PT.
2. Dance Blogger Contest –
Watch the upcoming episode and write a blog post about it. Get a chance to win $25.
People have already submitted entries for this contest but to give more people the chance to answer we've extended our deadline. The details on how to enter are here. We'll choose a random winner from the entries and promote your answer on our social media accounts. This is awesome publicity for you bloggers out there.
Here's a preview of Episode 4 which airs this week on Ovation:
A Chance to Dance: Episode 4 Preview: Shepherd Struggles
Are you in?
There are 3 ways to watch A Chance To Dance:
1.  Got Ovation?  Watch it on TV.
2.  Also available On Demand as part of your paid TV subscription.
3.  Watch on Facebook.
As promised…
Here's my interview as Mom In The Spotlight at Mom's New Stage, wherein I wax on televised dance reality, releasing my inner super mom, and what dance has taught me about blogging.
Enjoy! And, even if you aren't entering our contests…
Let me know what you think of A Chance To Dance in the comments!
Kindly follow, like or share:
Nichelle Suzanne is a writer specializing in dance and online content. She is also a dance instructor with over 20 years experience teaching in dance studios, community programs, and colleges. She began Dance Advantage in 2008, equipped with a passion for movement education and an intuitive sense that a blog could bring dancers together. As a Houston-based dance writer, Nichelle covers dance performance for Dance Source Houston, Arts+Culture Texas, and other publications. She is a leader in social media within the dance community and has presented on blogging for dance organizations, including Dance/USA. Nichelle provides web consulting and writing services for dancers, dance schools and studios, and those beyond the dance world. Read Nichelle's posts.