I'm thrilled to unveil something new and exciting happening at Dance Advantage.
You know that we, my columnists and I, provide fantastic (if I do say so myself) free content covering all things dance for everyone involved in dance training. We give an edge to dance students, teachers, AND parents…
You've heard that somewhere, right?
But now for the first time, I am releasing premium material for those who want to unlock new doors in their dance training.

What is it?
An e-course, sent to your email inbox every week for 40 weeks (TEN months – the length of an entire year of dance study at your school or studio).
Every weekly email includes four components (detailed below).

Who is it for?
4 for 40 is designed for students who want to be better, smarter, stronger dancers and dance students by the end of the dance year.
Ask a teacher to describe their strongest pupils. Regardless of any identified talent, they're the ones…
who THINK about dance even when they're not in the studio,
who go out of their way to LEARN and digest all they can even when it's not their turn or even when they're not in the studio.
who don't expect to unconsciously improve as a mover but are motivated from within to put ACTION behind their goals.
This course is perfect for that kind of dancer…
AND it's perfect for those who want to be BUT…
need the extra nudging for their brains, the extra guidance for their bodies, the regular attention to themselves that teachers don't always have time to provide in or outside of class.
What does it cost?
The course costs less than you'd pay for ONE private dance lesson. But it costs more than what you'd be willing to set aside on some shelf collecting dust or stuff in a dance bag, never to see the light of day again.
After all, I want you to actually USE it!
4 for 40 puts physical, mental, and emotional goals, actions, and lessons into the hands of YOU, the student week after week. I guarantee you'll be an improved, more whole dancer than when you started and that your peers, family, and probably most of all, your teachers will notice!
With something to DO every week, the course will draw out real effort.
But 4 for 40 is also fun and creative and EASY.
No task should take more than an hour to complete. Most will require only minutes from your day or week.
In other words, it won't feel like work!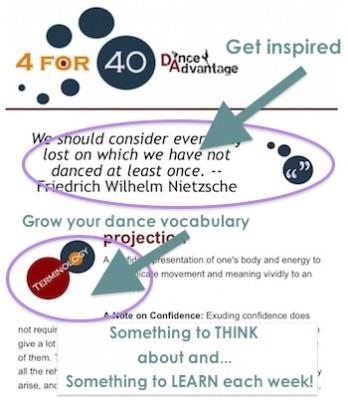 In each email you'll get:
A relevant and INSPIRING quotation to apply to your tasks and to your week in class.
A chance to grow your vocabulary
These aren't the ordinary terms you find in every online glossary. Only rarely will they be the names of steps or ballet terminology. Instead they'll be words and phrases that matter to students of any form or genre. They are must-know because they are often used but infrequently explained. You will LEARN, or at least be asked to THINK in a new way about each vocabulary term.
A reminder that dance is a verb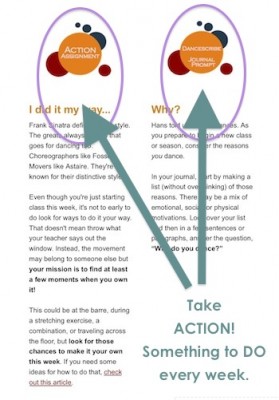 Your action assignment could be a physical exercise to perform daily. It could be something physical or mental to enhance your work in class(es) for the week. It could be a task to boost morale and get your creative juices or commitment energy flowing. No matter what, there will always be something to DO each week.
A way to 'de-scribe' dance
Though it may not be physical, it helps us digest all the yummy stuff we absorb each lesson, each week, or during each experience in dance. So with a mix of creative and reflective writing, list-making, and goal-setting each journal prompt is all about YOU, Dancescribing where you are and where you are going in dance so that you can look back, be present, and move forward in the way you THINK, FEEL, and PERFORM in your dance classes.
Find out more:
Can I purchase and then give this to a student as a gift?
Yep, you'll have the opportunity to buy and then enroll your child, grandchild, or friend, adding their name and email to our e-course participant list.
Can teachers use 4 for 40 in their classes?
As I mentioned, this course is designed for students. 4 for 40 regularly asks the student to learn, think, reflect, and act on given tasks independently. This encourages and develops the necessary skills and motivation to eventually self-initiate their own habit of recording and investigating dance.
4 for 40 is most effective when the student can work through this process from beginning to end. While most any of the elements could be taken out of context and delivered or assigned to students as a class, the underlying lesson gets lost if they are not "working" the course on their own.
Teachers, YOU can definitely benefit from examining and/or working through the course yourself but paying for the course only to redistribute portions of it to students reduces its effectiveness and may even be a waste of your money.
In the future discounts or incentives for teacher-endorsed enrollment in this e-course will be offered. Until then, I invite you to learn more, ask questions, and give the course a try.
I gratefully welcome your recommendation of 4 for 40 as I welcome and appreciate your recommendation of any of the content here at Dance Advantage.
Enroll Today!

Click here.
Kindly follow, like or share:
Nichelle Suzanne is a writer specializing in dance and online content. She is also a dance instructor with over 20 years experience teaching in dance studios, community programs, and colleges. She began Dance Advantage in 2008, equipped with a passion for movement education and an intuitive sense that a blog could bring dancers together. As a Houston-based dance writer, Nichelle covers dance performance for Dance Source Houston, Arts+Culture Texas, and other publications. She is a leader in social media within the dance community and has presented on blogging for dance organizations, including Dance/USA. Nichelle provides web consulting and writing services for dancers, dance schools and studios, and those beyond the dance world. Read Nichelle's posts.