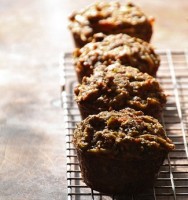 You heard me right- veggie muffins.
Get your daily dose of vegetable rich vitamins and minerals in the convenience of a muffin.  They are great dance bag travelers!
Veggie Muffins

Prep Time: 5 minutes

Cooking Time: 15 minutes

Yield: 6 muffins

Ingredients:

1 cup veggies, grated or finely chopped (whatever you like/have in your refrigerator)
2 eggs, beaten
2 cups spelt flour
1/2 cup parsley, finely chopped
1 cup soy or rice milk
pinch of sea salt

Directions:

Preheat oven to 325 degrees.
Mix flour and salt in a bowl.
Make a well, add eggs, veggies and parsley.
Mix lightly, gradually add milk. This is supposed to be lumpy so don't work too hard!
Spoon into muffin tray that is lightly oiled.
Bake for 12-15 minutes.
Remove and allow to set for 10 minutes, then serve.
Kindly follow, like or share:
Joanie Johnson is a certified health coach (CHC) through the Institute for Integrated Nutrition. Joanie is board certified through the American Association of Drugless Practioners (AADP), holds a B.A. in dance from Slippery Rock University, is a certified Pilates instructor, TRX trainer, professional modern dancer with HT Chen and Dancers, a Julie Morgentstern trained organizer and an all-around busy, motivated woman in New York City. She founded Motivated Nutrition (www.motivatednutrition.net) to educate and motivate movers and food lovers of all ages through individual and group coaching, fitness classes, cooking demonstrations, creative movement based workshops, and educational seminars. Joanie believes in everyone's right to live an active, healthy lifestyle and enjoys sharing her passion of optimal wellness through movement, fun and delicious food!