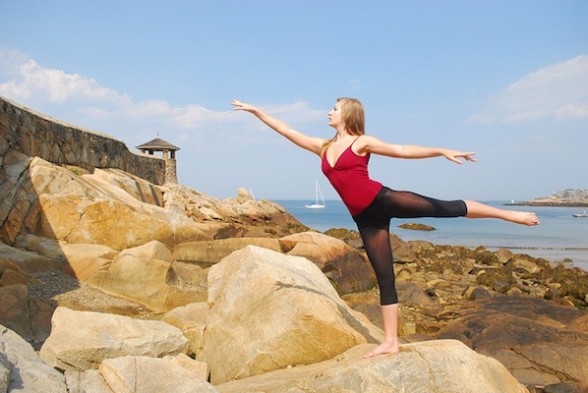 At a young age Kristen Newsom developed an interest and delighted in photography. Her joy blossomed when a very good friend, Meredith Neel (whose modeling skills can be seen throughout Kristen's Flickr) inspired her to pursue more dance-related photography. "We were quite a creative duo back then and without her I don't think I would be half as good at what I do. She's such a lovely dancer, and I was positively ecstatic to capture her beauty on film."
Kristen points out she also has had the pleasure to dance with and to photograph another of our Sunday Snapshot featured photographers/dancers, Melissa K. Dooley.
Taken during the summer of 2010, Staring at the Sea is a result of Kristen's passion for nature and for trying out new dance photography techniques. For the last two years she has attended Burklyn Ballet Theatre in the summer, and has been able to experiment with photography at dress rehearsals and backstage at performances, as well as during days off when she has the opportunity to photograph friends dancing in and enjoying the scenic Vermont landscape.
This particular photo was taken after a Burklyn Ballet road trip through Connecticut. The location was discovered by accident. "We were driving along the coast while I was looking for places to take candid shots of tourists and some landscapes, and I saw the beautiful rocks and outlook point and I couldn't resist trying some dance photography there. The shoot turned out very successful and some of these photos are my favorites to-date."
Kristen feels fortunate to have strong support from family and friends and feels her passion comes from being pushed and inspired by loved ones, not only in photography but also in her dance training. "Dancing has brought me out of my safe-zone and out of my shell. And because of dance and trying to capture dance's illusive beauty, I've evolved into the person I am today. I'm driven by the love of dance and by my desire to see and experience the world from a personal level. I always try and give 100% to everything, including my photography. I wont settle for just average or ordinary. I want my viewers to feel my photo and to be moved and taken away by it."
Kristen recently closed a chapter in her life, taking a final bow with her childhood dance studio where she's spent the last 16 years. She'll once again spend this summer at Burklyn Ballet Theatre as a Jr. Counselor and is currently auditioning for companies while also prepping for her next semester at Sam Houston State University (a BFA in Dance with a minor in photography, of course).

Kindly follow, like or share:
Nichelle Suzanne is a writer specializing in dance and online content. She is also a dance instructor with over 20 years experience teaching in dance studios, community programs, and colleges. She began Dance Advantage in 2008, equipped with a passion for movement education and an intuitive sense that a blog could bring dancers together. As a Houston-based dance writer, Nichelle covers dance performance for Dance Source Houston, Arts+Culture Texas, and other publications. She is a leader in social media within the dance community and has presented on blogging for dance organizations, including Dance/USA. Nichelle provides web consulting and writing services for dancers, dance schools and studios, and those beyond the dance world. Read Nichelle's posts.