Over the next 7 months, The Royal Ballet School (London) will open its doors to teachers, dance students and enthusiasts alike for a series of exciting lectures and masterclasses
This series of Exploration Days will examine the pedagogy and training programmes of the French, Italian, Danish and Russian Schools, and how they influenced the development of the English School as established by Ninette De Valois.
Each of the Exploration Days will comprise of the examination of the history and style of one of the Schools, including a ballet masterclass to showcase their unique characteristics.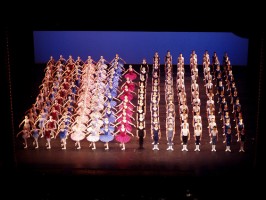 Bite-sized Historical Context
The Royal Ballet School is considered to be one of the most prestigious vocational ballet schools in the UK, and one of the foremost classical ballet schools worldwide, offering full-time training programmes to potential professional dancers.
It acts as a feeder school to both The Royal Ballet Company and The Birmingham Royal Ballet, and its graduates dance in internationally acclaimed companies all over the world.
Ninette De Valois founded the school in 1926 with the opening of the Academy of Choreographic Art, which was renamed the Vic-Wells Ballet School in 1931, and again renamed in 1939 to The Sadler's Wells Ballet School. When the school was granted its Royal Charter in 1956, the school was given its current name, The Royal Ballet School.
The students at the Royal Ballet School follow a specifically designed 'System of Training'. This eight year system is split into two courses; a five year course at the Lower School (White Lodge, Richmond Park, Surrey) for students aged 11 to 16, followed by a three year course at the Upper School (Covent Garden, London) for students aged 16 to 18.
When developing The Royal Ballet School's classical System of Training, De Valois extrapolated and collated what she believed were all the strongest elements from the French, Italian, Danish and Russian schools, merging them to forge a new methodology.
De Valois hoped by doing so she would create a uniquely 'English style'; a fusion of the best of the old European and Russian Schools, developed to capitalize on the English temperament and physique.
Previous graduates include Dame Margot Fonteyn, Sir Kenneth MacMillan, Sir Anthony Dowell, Dame Monica Mason, Sir Peter Wright, Dame Antoinette Sibley, Dame Merle Park, Dame Beryl Grey and also dancers Adam Cooper, Alessandra Ferri, Christopher Wheeldon, Darcey Bussell, David Bintley, Deborah Bull, Ivan Putrov, Jonathan Cope, Lauren Cuthbertson, Leanne Benjamin, Lesley Collier, Lynn Seymour, Marguerite Porter, Marianela Nunez, Miyako Yoshida, Sergei Polunin, Viviana Durante, Wayne Eagling, Wayne Sleep, and William Tuckett.
Exploration Days – Details & Dates
The French School – Sunday, 30 September 2012
Elisabeth Platel, Director of Paris Opera Ballet School
Booking closing date: 7 September 2012
The Italian School – Sunday, 21 October 2012
Dr Giannandrea Poesio, Reader in Dance, University of Bedfordshire
Booking closing date: 28 September 2012
The Danish School – Sunday, 2 December 2012
Thomas Lund, Director of The Royal Danish Ballet School
Booking closing date: 9 November 2012
The Russian School – Sunday, 3 February 2013
Altynai Asylmuratova, Artistic Director of The Vaganova Ballet Academy
Booking closing date: 11 January 2013
The English School – Sunday, 17 March 2013
Gailene Stock AM, Director of The Royal Ballet School
Booking closing date: 22 February 2013
Small Print
Individual sessions for delegates include admission to the lecture and masterclass.
Spaces for the ballet Masterclasses are sold separately, and are open to private and vocational students between 13-15 years by application only.
Early booking is recommended.
For further information or a student masterclass application form please contact:
Laurajane Lavender, Outreach Events Coordinator
The Royal Ballet School
46 Floral Street, Covent Garden, London (UK) WC2E 9DA
Tel: +44 (0)20 7845 7064 | Fax: +44 (0)20 7845 7067
Email: tlink@royalballetschool.co.uk | www.royalballetschool.co.uk
Angeline Lucas is a freelance dance writer, teacher and lecturer based in England. She has been awarded Registered Teacher Status with the Royal Academy of Dance (RAD) and is an Approved Teacher of the Council for Dance Education & Training (CDET). Angeline trained at Northern Ballet School (NBS) and holds a Certificate of Higher Education in Dance Education, validated by RAD and the University of Surrey. Previous roles have included working as head of department, outreach coordinator and curriculum manager, and she also has experience in dance research and arts administration. Angeline has taught and lectured at various private dance studios, schools, colleges and on community programmes, and is considered to be a dedicated, experienced and enthusiastic teacher. While her speciality and greatest passion is classical ballet, Angeline also teaches other dance genres alongside musical theatre, circus skills, acting, drama and performing arts.