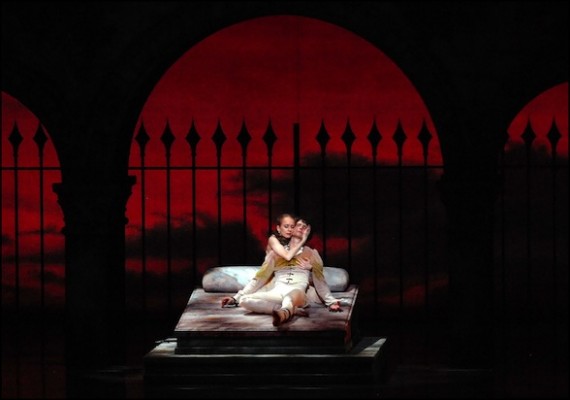 Photographer Michael Seamans was given his first camera by a woman having a porch sale. He was 7 and intrigued by the device. She thought it was broken and gave it to Michael. "I convinced my mother to buy me a roll of film for my broken camera," he remembers "and took my first roll of black and white film of family members, including my great grandmother."
Michael came to photograph ballet by sheer chance. He was primarily a sports photographer at the Boston Herald, and the nighttime schedule also fell at the same time as the Boston Ballet performances. "I still remember the first time I covered the ballet," Michael says, "Having no idea what to expect, I was completely blown away and hooked at the same time. I was mesmerized by the athleticism, power, grace, and artistry I saw, and asked to cover any of the dress rehearsals that fell within my schedule. I remember being told by an old time editor to make a few frames and leave, which I just couldn't do and stayed for the entire dress rehearsal whenever I could." Having grown up in a small, central New York town, Michael had never been to a performance before and he admits he still has yet to see a performance with a full audience.
Michael left the newspaper in 2005, and is now a freelance photographer. Though he finds it difficult to have the same access to performances and companies, he is pursuing opportunities to work on some long-term projects dealing with ballet and its dancers.
The photo above was taken in February 2008 during dress rehearsal of Boston Ballet's Romeo and Juliet. Larissa Ponomarenko (Juliet) and Nelson Madrigal (Romeo) are pictured.
About the photographer: Michael Seamans studied photography at Rochester Institute of Technology, graduating in 1994 with a B.F.A. in Photographic Illustration with a concentration in Advertising. He worked briefly as a freelancer for several small Upstate New York newspapers before moving to Boston in 1996. A staff photographer at the Boston Herald for nine years, his projects ranged from fashion, portraits, food and illustrations in the studio to major news and sporting events across the United States, including The National Democratic Conventions in 2000 & 2004, the aftermath of September 11 in NYC, the Red Sox World Series season, and the New England Patriots Superbowl-winning seasons. In 2002, he was tapped to help shoot "The Fire Within," the official commemorative book of the Salt Lake 2002 Olympic Winter Games. Other photographic highlights include adventures in Europe, Asia, and Central America. Michael's work has been published in Travel & Leisure Family, Sports Illustrated, ESPN magazine, Newsweek, USA Today and various other US and international publications, as well as in a number of books documenting New England professional sports. His photographs have been exhibited in galleries in Salt Lake City, Boston, and New York City.
To view more of Michael's work, visit his website www.michaelseamans.com or Flickr photostream. You can also find him on Facebook and Twitter.
In 2011, our Sunday Snapshot feature will appear every other Sunday instead of weekly to allow room for other items. If you are a photographer and would like to submit one or more of your dance photos for consideration, please click the Get Featured button add them to our Flickr photo pool.
Kindly follow, like or share:
Nichelle Suzanne is a writer specializing in dance and online content. She is also a dance instructor with over 20 years experience teaching in dance studios, community programs, and colleges. She began Dance Advantage in 2008, equipped with a passion for movement education and an intuitive sense that a blog could bring dancers together. As a Houston-based dance writer, Nichelle covers dance performance for Dance Source Houston, Arts+Culture Texas, and other publications. She is a leader in social media within the dance community and has presented on blogging for dance organizations, including Dance/USA. Nichelle provides web consulting and writing services for dancers, dance schools and studios, and those beyond the dance world. Read Nichelle's posts.