I love finding new dance blogs and I love, love, love that I'm encountering teachers who are using the platform to process and share ideas. Blogging, like journaling, is a remarkable tool for dance instructors to document and assess what they learn along the way (oh yes, teachers do a lot of learning too).

I was immediately drawn to the material over at Move. Create. Educate for its emphasis on creative movement for young children and began interacting with Maria, the teacher and blogger behind it all.
I discovered that Maria is an independent dance educator around New York City who holds a Master's degree in dance education from NYU. I discovered that Maria is currently building her own business called Maria's Movers where she offers creative ballet and creative movement to children around NYC. I discovered she is a teaching artist in public elementary schools for New York City Ballet, a creative movement and tap teacher for Mark Morris Dance Group in Brooklyn and a movement specialist for 2-3 year olds at York Avenue Preschool on Manhattan's Upper East Side. And then, THEN, I discovered she and I both received our undergraduate degrees in dance from Slippery Rock University! Needless to say we've had a lot to talk about.
I thought you might like to get to know Maria a little better too so, I caught up with her to ask a few questions about her blog and her life as a teacher.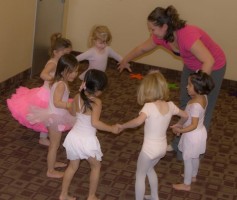 DA: What inspired you to start your blog?
Maria: I was inspired to start Move. Create. Educate. because I was looking for a place to share my ideas about dance education. I had so many ideas, frustrations, and questions that I needed to write them down. I was feeling alone in this profession, but I knew that wasn't true. So I set out to just write, write, write — not really knowing if anyone would read it. I think of the blog as my journal. I try to write everyday, as I think of it as an extension of my job as a teacher. Now that I have been blogging for a while, I think it is so important to share and connect with dance educators everywhere. I hope the blog will build a community of teachers and become a place to talk about challenges and accomplishments of dance educators. It was just the outlet I was looking for!
DA: What is the biggest challenge you face as a teacher?
Maria: My biggest challenge right now is being able to get all of behind the scenes work done. If you are a teacher of any kind you know that just because you leave work, it doesn't mean your work is done. Planning, playlists, e-mails, and evaluations, it all has to be done in between or after the day of teaching is over. Sometimes it's hard to keep up. The challenge is making time and space for all of this work. I use my New York apartment as my office/planning place. If you know New York apartments, you know that space is limited! Oh and did I mention I carry my dance room on my shoulder? A challenge in itself!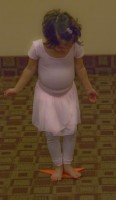 DA: What do you love most about what you do?
Maria: This is such a tough question! I love it all! I love when the kids see me and their faces light up with a huge smile and offer me a huge hug. I love when the parents tell me that all they talk about at home is ballet and that they sing the point and flex song to fall asleep at night! I love parents days and performances because the kids feel so accomplished. I love to see my students of all ages engage in the creative process. I love to hear them laugh. I think what I love the most though is just knowing that everyday I get to teach dance and make a living. It was always my goal, and I finally have reached it!
DA: Name three items that in your work with little ones you just couldn't live without.
Maria: 1) Hand drum: I bought a hand drum when I first graduated from NYU and was first hired to work with preschool age kids. I wasn't sure what I would use it for, but I knew I could figure something out and it would come in handy. It is now a regular part of every class. The sound of the drum signals for them to stop, look, and listen. We practice jumping on the beat, and they love to play it too. If I have a new class, I begin with letting them play the drum. Works like a charm! This also works with older kids, and I have used it in all types of classes — ballet, tap, and creative movement.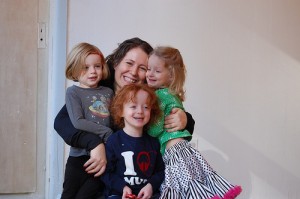 2) Star spots: My life saver, but so heavy to carry around in my bag! These star spots keep everyone organized and in a happy place. We sit on them to start, but then I incorporate them into the class. They put them on their heads, we balance them on body parts, I put them in charge of their star. They keep it the whole time, so they know exactly where they need to be. I think of the stars as my special "assistant."
3) Stickers: My students love stickers (better than stamps, the ink gets all over) after class. I started this a few years back when they come to me at 2 years old for behavior modification. As they grow, they never forget about them. They always want the "pink" stickers. I try to buy stickers that are all the same size and color, so no one gets upset! If I forget the stickers, I am in trouble!
If you teach dance, and particularly if you work with young children, you'll want to keep and eye on Move. Create. Educate. too!
Kindly follow, like or share:
Nichelle Suzanne is a writer specializing in dance and online content. She is also a dance instructor with over 20 years experience teaching in dance studios, community programs, and colleges. She began Dance Advantage in 2008, equipped with a passion for movement education and an intuitive sense that a blog could bring dancers together. As a Houston-based dance writer, Nichelle covers dance performance for Dance Source Houston, Arts+Culture Texas, and other publications. She is a leader in social media within the dance community and has presented on blogging for dance organizations, including Dance/USA. Nichelle provides web consulting and writing services for dancers, dance schools and studios, and those beyond the dance world. Read Nichelle's posts.