Every once in a while I like to express appreciation for our readers with an entire week of giveaways.
It's been almost a year since our last one and, because next week is Valentine's Day, it seemed an especially appropriate time for showing and sharing the love.
When will the LOVE Our Readers Giveaway begin?
Good question! The first giveaway will appear at 8am EST on Sunday, February 12, 2012.
A new giveaway will go up every day for 7 days.
When will it end?
The last giveaway goes up on Saturday, February 18 Sunday, February 19 (we love to overdeliver)
But each giveaway is open for approximately 4 1/2 days, closing at 12am, Midnight EST at the close of Day 4. (That means the final giveaway will close at Midnight on the 23rd)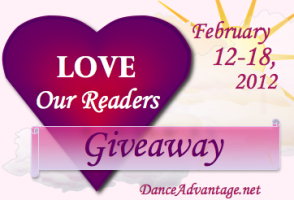 What could I win?

Though normally I don't mind wearing my heart on my sleeve, I do like to leave something to the imagination.

Tell you what, I'll reveal all our giveaway sponsors right here, complete with links to each giveaway as they go live every day on the site.
What do I have to do?
Show up and comment on the individual giveaway posts. That's all it takes to enter.
Stay tuned all week to DanceAdvantage.net. There will be a link to the latest giveaway on the home page. Or bookmark this post and return to see the links go live above.
Can I improve my chances?
You bet. After commenting, earn extra entries by completing a few simple tasks like tweeting, sharing, or writing about the giveaway.
Subscribers will also earn extra entries. Subscribe today and get the inside scoop in your welcome email.
For those of you who've played along with us before, I'm hoping to streamline the whole process of extra entries with a fancy new system from Rafflecopter.
What happens if I win?
After I randomly draw the winning entries, I'll contact you via email.
You'll only have 48 hours to get back to me.
I've got to put a limit on it or it drags on and on and on…. So stay close to your email throughout the coming weeks. When I don't hear back from a winner, I move on to the next random winner which makes another person happy (yay!) but another one pretty disappointed. I'd rather that no one be disappointed!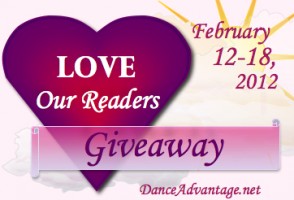 What do I do now?
Mark your calendar! February 12-22. After that it's all over.
Tweet, retweet, tweet again.
Share, like, link on Facebook.
Blog, re-blog, broadcast.
More questions?
Have a look at our giveaway policy and if you don't find answers there, comment below!
Kindly follow, like or share:
Nichelle Suzanne is a writer specializing in dance and online content. She is also a dance instructor with over 20 years experience teaching in dance studios, community programs, and colleges. She began Dance Advantage in 2008, equipped with a passion for movement education and an intuitive sense that a blog could bring dancers together. As a Houston-based dance writer, Nichelle covers dance performance for Dance Source Houston, Arts+Culture Texas, and other publications. She is a leader in social media within the dance community and has presented on blogging for dance organizations, including Dance/USA. Nichelle provides web consulting and writing services for dancers, dance schools and studios, and those beyond the dance world. Read Nichelle's posts.