If you ask any PhD student what his thesis is about, one of two things is likely to happen:
1. You get a long, drawn out paragraph of mumbo jumbo things that no one in the outside world will ever understand…
-or-
2. "It's about electrons."
That is to say, you get the watered-down, one word version and a subtle invitation to please stop asking questions because you wouldn't understand it anyway.  But what if there was a way to communicate complex ideas, the stuff of PhD's, without watering it down or shutting the rest of us out? 
Apparently there is…
What was once a little known video contest for PhD students to explain their research through dance has blown up into a full-scale online dance film fest.  Scientist/writer John Bohannon developed the Dance Your PhD contest as a way to make science accessible and understandable to everyone.
Plus, he sees this model as a way to attack some of the problems we face in the dance community. Bohannon gave this TED talk a few years ago, where he claims that dancers are a valuable and fragile resource.  Using dancers as a learning tool and a means of communicating lofty, inaccessible ideas could be one way to protect the fields of both dance AND science.
Science is hard. 
The Dance Your PhD project attempts to make really complex ideas a little more accessible to the outside world.  On top of that, it forces scientists to take a look at their work, step away from the numbers, and ask themselves, "So, what?"  Doing this is important to finding the big picture.  It's a really healthy and cathartic process to force yourself to summarize your work in a way that everyone (including you) can "get".  Scientists need to
find the "Why"
in what they do as much as dancers do.
If you know me
, then you realize that these are ideas that I can get behind.
I got the chance to sit down with one of my favorite dancer/scientists Christopher Knowlton.  Ok, "sit down" is an exaggeration for an email conversation…..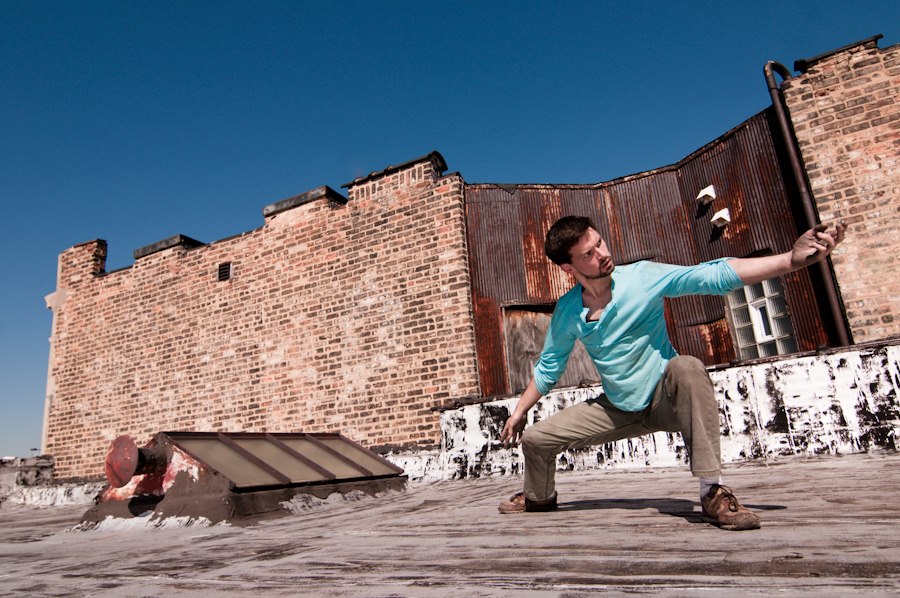 Anyway, we chatted a bit about the pursuit of his PhD in Bioengineering, balanced against his life as a professional dancer/choreographer and Artistic Director of
The Dance Team
, and how he's combined his two worlds to create a dance film for the Dance Your PhD contest.  Here's the gist of our conversation:
LW – How did you learn about the Dance Your PhD project?
CK – Rachel Thorne Germond of RTG Dance, the first choreographer I worked with in Chicago, posted a link to the contest on Facebook a little over a year ago, and I took an immediate interest. It was too close to the contest deadline to participate, so I mentally (and browserly) bookmarked it, hoping it would happen again in 2012. Not long after, there was an explosion of posts among my dancer friends sharing a TED talk given by John Bohannon & Black Label Movement called "Dance vs. powerpoint, a modest proposal". Dancers were buzzing over the video's use of stunning choreography to convey facts and data, in a way that lecture and performance really became inseparable. I've always been interested in movement conveying factual information as well as emotional, and since both my work as a scientist and my work as a choreographer have attempted to do those, I decided that I just had to participate. So my mental bookmark has now become a fulfilled New Year's resolution.
LW – Explain your film a little bit, and how it relates to your thesis.
CK – The film takes the viewer through my thesis, as demonstrated through dance and subtitles. Much of the technical jargon that I work with on a daily basis, such as replacement, accumulation, isolation, inversion,  and alignment, also have meaning in dance. Sometimes these meanings are similar, sometimes they are different; in that way, much of the dance is somatic wordplay, and I hope that that is the glue that makes technical concepts stick with a broader audience. The subtitles help the viewer navigate the relationship between the movement and my research, but at different times I try to anticipate, match or follow up the movement. We actually created the choreography first, which we made in silence during three two hour rehearsals and filmed in six hours. The script was added during editing to provide more context, and music was slapped on for some continuity. I made the film for a very broad audience, and so I focus a lot on why my research is significant to the viewer. I wanted to add citations for each statement as you would in a research paper in order to appeal to those who wanted more technical information, but there simply wasn't enough time. The competition is called Dance Your PhD, but in reality, the competition is Dance Film Your PhD – anyone who has made a dance and a dance film know how different those two things are. Our choreography was made for live performance, where the text would be spoken, but I feel it translated to camera fairly well.
LW – What, if anything, do you hope viewers take away from your film?
CK – If people understand my thesis and never have to ask me awkwardly again what I do, that would be great! But what I'd really like them to take away is how effective dance, or more appropriately, movement, is as a communicative tool. Scientists often lack the abilities to clearly, concisely and memorably explain complex ideas. Every career requires strong communication skills, but research needs a special combination of good technical and soft skills; even if you had a cure for cancer, it wouldn't do any good unless you can translate that science into the real world. To me, dance and art are necessary components to any education so that problem solvers and innovators can learn to express effectively.
LW – What's next for you?
CK – Dancerly, I have a lot happening next: I [premiered] a trio called Shelter for Synapse Arts Collective's New Works this weekend at Hamlin Park, I'll be premiering a quintet called The Bro-uble Standard in Links Hall's Dances to Songs I Hate 2 at the end of October, and I am re-staging an evening-length work called Hub and Spoke in a show I put together called The Past Is Prologue in early November. (That's not to mention projects I'm performing in for other people.) Scientifically, I'm currently writing my second and third academic research papers to submit for publication, and I plan to present my preliminary thesis defense in December. But more in the vein of this film, I'm in the process of writing a residency proposal to create a simple engineered suit to track and record motion. With it, I want try to better understand differences in dance movement styles, investigate the dancerly and scientific notions of 'approximation', and create a performative-lecture to explain the results.
It sounds like Chris is a pretty busy guy, and an ambitious one.
And now, here's the moment you've been waiting for…
the film
:
NEAT!
Want more?
If you have a nice chunk of time and a hunger for learning, view the other 2012 Dance Your PhD entries
here
.
—
Christopher Knowlton is a Ph.D. student in Bioengineering at the University of Illinois at Chicago and researches joint replacements in the Department of Orthopedic Surgery at Rush University Medical Center. Chris is honored to be choreographing in his second season with Synapse Arts Collective. Chris is also currently a collaborative performer for Mark Jeffrey & Judd Morrissey, Erica Mott, Katie Graves, We Stand Sideways and The Dance Team, a group for which he has acted as artistic director for the past year. Chris's choreography credits include Shortest Distance, a solo performed at the Cincinnati Art Museum, The Box the Gift Came In, a solo premiered at the annual Links Hall benefit THAW and Hub and Spoke, an evening-length piece for The Dance Team premiered at the 2011 Chicago Fringe Festival.
Kindly follow, like or share:
Lauren Warnecke is a freelance writer and editor, focused on dance and cultural criticism in Chicago and across the Midwest. Lauren is the dance critic for the Chicago Tribune, editor of See Chicago Dance, and founder/editor of Art Intercepts, with bylines in Chicago Magazine, Milwaukee Magazine, St. Louis Magazine and Dance Media publications, among others. Holding degrees in dance and kinesiology, Lauren is an instructor of dance and exercise science at Loyola University Chicago. Read Lauren's posts.