I've been performing professionally for 15 years and have experienced some wear and tear on my body. In particular, I've had several back injuries and have turned to somatic practices for strengthening and support. My friend and fellow dancer, Evalina Carbonell, suggested I try Gryokinesis and through the practice, I have felt more openness in my lumbar area and more length along my spine. This practice has personally helped me to find more openness in my hip joints and in my spine.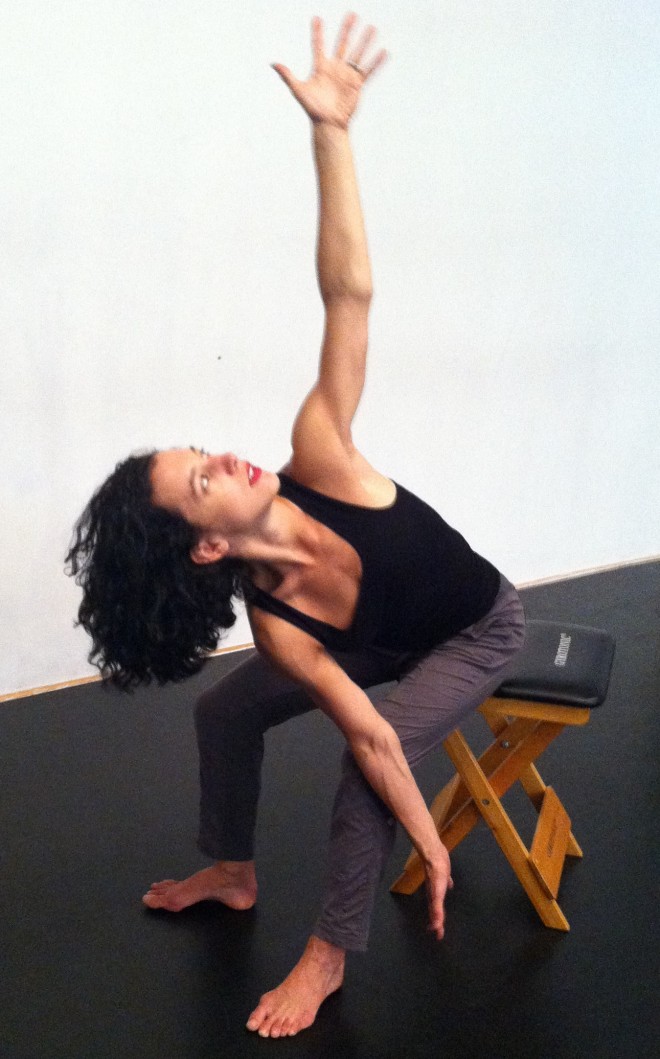 "The Gyrotonic Expansion System really turns people into creatures in the best kind of way. You get to uncover your inner animal" reflects Evalina Carbonell, professional dancer and Gyrotonic and Gyrokinesis instructor. "Just like in dance, the practice may change as we change; but, it can be enjoyed by people of all ages."
Gyrotonic focuses on the breath initiating movement in conjunction with the body's internal rhythm. Movement intention, symmetry, balance of strength and flexibility, flow, grace, ease and "kind of sweet-talking your body into awesomeness," according to Evalina, melt together to create a physical practice of spinal twisting and curvilinear limb pathways that emerge from the center of the body.
"All of this results in the creation of a more supple and expressive instrument," considers Evalina whose drive to express was her draw to dance. "Gyrotonic helps me to eliminate restrictions in my body, so my instrument can perform at its best. It makes me feel delicious and alive, helps me to explore the unfamiliar or uneasy without the risk of injury, and gives me a deeper understanding of the small nuances of my body's movements," she says. These physical and artistic nuances have aided Evalina, as her on-going career has spanned both classical ballet, as a principal artist with the Roxy Ballet, and modern dance, with the internationally recognized Kun-Yang Lin/Dancers.
Initially developed as a tool by Juliu Horvath to heal his injured, dancing body, the Gyrotonic Expansion System includes the Gyrotonic and the Gyrokinesis methods. Gyrotonic uses specialized equipment; Gyrokinesis can be performed on a chair or mat.
Like dance, Gyrokinesis relies on gravity, the body's own ability to create opposition, and the imagination of the practitioner; the System was initially developed without equipment. Using equipment in Gyrotonic allows for aided support and extension of the body. The Gyrotnoic equipment "is also a tool for people to experience movement that might be outside of their current range of available motion. It makes your legs feel longer, reminds you of the space between your vertebrae, removes gravity… kind of like being in outer space," Evalina suggests. As a Trainer in both methods and a dance educator and choreographer, her perspective is unique.
I've participated in several of Evalina's classes. She cautions (and I experienced) that some of the exercises can create a sensation of nausea because of the initiation through the core and constant movement. However, after two sessions, this experience subsided and I was able to more deeply investigate the practice.
Private lessons and group classes are available through the Gyrotonic Expansion System, and, like any practice, more frequent sessions will produce more in-depth results. It has changed how Evalina and her clients move in the world – from everyday actions like standing in line or picking something up to the dancing practice of classes, rehearsals, and performance.
Once familiar with the movement patterns, Evalina also suggests that dancers incorporate the exercises into their warm-ups and/or cool-down periods to increase the range of texture and dynamic available to the dancer. The training includes imagery, which dancers are often familiar and access, to aid the practitioner in defining movement effort and energy.
This focus on artistry and movement inspired Evalina to utilize the Gyrotonic Expansion System as a form of cross-training and to become an instructor. She was first introduced to the practice in San Francisco at the Alonzo King's Lines Contemporary Ballet Summer Program and continued during her undergraduate career at Florida State University under Master Trainer and ballet teacher Anjali Austin. As a young dancer, Evalina's technique and artistry improved by incorporating the Gyrotonic Expansion System. Being a Trainer has allowed Evalina to teach and share the System, while providing her with an additional source of income, when she is not performing, choreographing, or teaching dance.
Like dance, the movement process of the Gyrotonic Expansion System is a constant discovery. Evalina reflects, "Every time I practice, I have a new striking moment. It's so exciting to be able to give yourself a massage from the inside out, be able to work out your own kinks as you dance through the movements [during the practice]. The system really does teach your body to sing, makes you hum….When you do something just right, you can whisper it, and people can still hear you a mile away. Then if you want to shout, you can make a huge noise with a minimal effort." Developing this range of dynamic is a necessary component to dancing artistry.
Have you tried Gyrotonic or Gyrokinesis? What have you discovered?
For more information or to find a class, visit https://www.gyrotonic.com/
As a professional dancer, I benefit from including cross-training in my daily routine:
• Cross-training expands my relationship with my body and gives me additional information to bring to my technique classes and rehearsals.
• When I don't have access to regular classes between performance seasons, when traveling, and during amped-up rehearsal periods, I can continue my physical investigation.
• Physically and mentally working in new and different movement pathways has prepared my body to meet the needs of a variety of choreographers.
As an educator, I appreciate that each dancer is different and there are many cross-training techniques.
This series explores several cross-training practices through the lens of the dancing body/mind/ spirit. Next up, we'll look at BeachBody.
____________________________________________________________________________________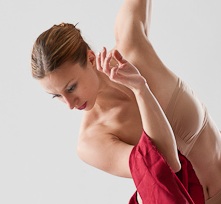 Jessica C. Warchal-King is a Philly-based performer, choreographer, educator, and arts advocate. She is a member of Kun-Yang Lin/ Dancers and Nora Gibson Contemporary Ballet. Jessica has tourednationally and internationally and performed at some of the premier dance venues in the US. She has also performed for many independent choreographers in Philadelphia, New York, and the Virginia/ DC area. Her choreography has been presented throughout Pennsylvania, New York, New Jersey, the Washington DC area, and Virginia. Jessica is he co-founder and curator of the InHale Performance Series, presented by Kun-Yang Lin/Dancers. She teaches at several universities, studios, and arts centers offering Master and ongoing classes. Some of these institutions include Muhlenberg College, Widener University, Dickinson College Alvernia University, West Chester University, Temple University, Old Dominion University, and the CHI Movement Arts Center.
Jessica earned her MFA in Dance from Temple and her BA in Dance and Anthropology from Muhlenberg College. She is a trained instructor in Dance for PD, a program developed by the Mark Morris Dance Group to bring dance to people with Parkinson's Disease, and a Power Pilates Mat I & II Certified Instructor.
Additionally, Jessica enjoys the quiet energy of the morning, singing cardinals, dragonflies, and the shirting temper of the ocean. She seeks out opportunities to engage in conversation and in the talents of her community. The Embodiment Project is Jessica's ongoing research project combining education, physical dance practice, and performance. Using dance as its medium, The Embodiment Project investigates the relationships between kinesthetic, somatic, and anatomical understanding, self-awareness, art-making, joy-creation, and social justice. www.jcwarchalking.blogspot.com
Kindly follow, like or share:
Jessica C. Warchal-King is a Philly-based performer, choreographer, educator, and arts advocate. She is a member of Kun-Yang Lin/ Dancers and Nora Gibson Contemporary Ballet and has toured nationally and internationally. Jessica is co-founder and curator of the InHale Performance Series and she teaches at universities, studios, and arts centers.
Jessica earned her MFA in Dance from Temple and her BA in Dance and Anthropology from Muhlenberg College. She is a trained instructor in Dance for PD, a program developed by the Mark Morris Dance Group to bring dance to people with Parkinson's Disease, and a Power Pilates Mat I & II Certified Instructor. The Embodiment Project is Jessica's ongoing research project combining education, physical dance practice, and performance. Using dance as its medium, The Embodiment Project investigates the relationships between kinesthetic, somatic, and anatomical understanding, self-awareness, art-making, joy-creation, and social justice. www.jcwarchalking.blogspot.com