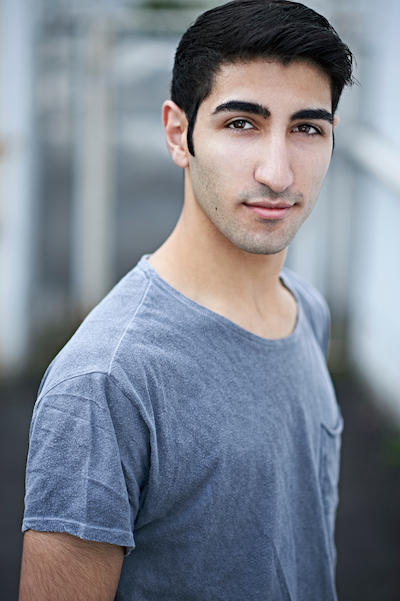 There are many paths to becoming a professional dancer and no two dancers' roads are ever exactly alike. Billy Mustapha's talent, lightning-fast abilities to absorb choreography and his versatility as a mover are why he's been chosen for and featured in high-profile projects like ABC's Once Upon A Time, The Flash on CW and Disney's Freaky Friday and Descendants 3. It's also why this Canadian, born and raised in Calgary, is booked as a dancer to tour the U.S. in 2019 with a multi-platinum recording artist. Like all dancers, however, Mustapha has stayed his course in dance because of a personal dedication and devotion to the art form and because of the people who have acted as guideposts along the way.
Trial, Error and Overcoming Anxiety
Mustapha started down his pathway in dance after experimenting with a variety of sporting activities. Hockey (the preferred sport of his two brothers), kickboxing, soccer — none of these felt like the right fit.
"I told my mom I didn't want to do any of them but she was adamant that I have something. The search continued until I watched my older sister dance in her recital," Mustapha remembers. "I've been completely consumed by dance ever since."
Beginning his dance education at Calgary's Dance Spectrum Inc. at age seven, Mustapha immersed himself in every dance genre the studio offered. Selecting a physical and creative outlet in performance may have seemed surprising for a child who rarely left his mother's side and required his brother's presence at birthday parties to which he alone was invited. However, Mustapha's experiences in dance and movement exploration gradually brought out a confidence that helped him to overcome his separation anxiety. At just 17, he moved to Vancouver alone to follow his passion and pursue a career in dance.
"Never would I have thought that the shy, insecure little boy would be able to live on his own in a new city," Mustapha muses. "But I made it happen, knowing it was all for dance."
Mentorship Matters
Mustapha made the 600-mile leap (for our international readers, that's nearly 1000 km) to Vancouver to undergo the Intensive Training Program (ITP) at Harbour Dance Centre. A program designed to train dancers for careers in commercial dance, ITP includes over 20 hours per week of company training and classes in dance, as well as acting, singing and even aerial and circus skills.
It was an opportunity Mustapha may not have grasped had it not been for mentor, dance professional, and creator and host of The Dance Podcast Lauren Ritchie. Ritchie hosted a program called The Dance Lab, during which dance industry leaders would engage in video chat with aspiring artists wanting to take next steps in the dance industry. Among these leaders was ITP director Moe Brody. The experience greatly influenced Mustapha's decision to audition for an elusive spot in the ITP program.
"It is rare to find a dancer that is trained extensively in hip-hop, tap, ballet and jazz," Brody explains. "Billy was incredibly dedicated to his craft and wowed the other judges on the panel."
Mustapha excelled within the program, dancing lead roles and becoming an integral part of the the shows produced by ITP. He was often referred to as "Dance Captain" for going out of his way to help the choreographers, who frequently called upon him for assistance in rehearsals.
"Billy has a natural glow about him when he performs his signature style, and ITP was elevated because of his involvement," praises Brody.
Great dancers who go the distance in an industry as competitive as dance, typically remain gracious and humble throughout their careers. Displaying hints of his own greatness, Mustapha didn't forget to thank his mentor Richie for her gift of empowerment through preparation as he looked toward his future. Her reply, "It's because I believe in you, Billy," along with the time she invested in him was significant for the emerging dancer, giving him confidence to pursue his dreams.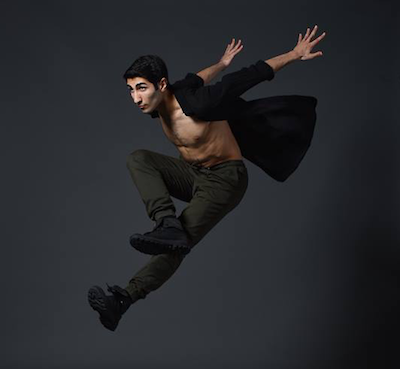 Like Something Out of a Fairytale
Canadian choreographer Paul Becker has worked with some of the biggest names in entertainment, including Ariana Grande, The Jonas Brothers, Ciara and Kanye West. His name is well known, having choreographed over 200 films and television projects, from Twilight to Descendants to the Netflix series A Series of Unfortunate Events and Once Upon A Time.
It was during Becker's work on Once Upon A Time that Mustapha, who was still living in Calgary at the time, learned the choreographer would be conducting a master class and audition over the period of a few days in Vancouver. It was short notice and flights were expensive, so Mustapha made the 15-hour trip via bus to arrive at the master class just in time.
Nerves aside as he took the class with already seasoned performers from the Vancouver dance scene, Mustapha made an impression on Becker that day.
"I was impressed with his unique style and his ability to learn choreography incredibly fast," Becker recalls. "It was due to this fact that I immediately hired him as a lead dancer for Season 6 of Once Upon A Time."
Booking the job didn't stop Mustapha from attending the audition a few days later for the learning experience that it provided.
"It was a relief knowing that I was already booked and I got to watch many veteran dancers audition, learn what works for them and why they are so bookable."
Having worked with him on the TV show, Becker considers Mustapha "one of the most accomplished and exciting faces in contemporary dance."
See footage from the fateful master class below as Mustapha performs in the group at 1:47 and at 2:40.
Earning Respect and Rewards
That first year living in Vancouver was a test of Mustapha's skills and stamina. Shortly after beginning training as part of ITP, he auditioned for the award-winning TwoFourSeven company, a competitive hip-hop crew featuring some of Vancouver's top dancers and choreographers in the genre. Though hip-hop was not the area in which he'd undergone his most extensive training, he was accepted into the company — a testament to his versatility as a dancer. The simultaneous experiences and the physical demand of rehearsals, classes and training put Mustapha to the test.
"Even though my body and brain were often overexerted throughout that year, that was the year I saw the most growth in my dancing abilities. I would gladly do it again."
That growth led to more and greater opportunities. Broadway, film and television choreographer John Carrafa has been nominated for two Tony awards and he has been honored with an Obie Award, World of Dance Award, as well as the 2005 Media Choreography Honor for his work on The Polar Express. Mustapha's diverse training made him a standout during auditions for the Disney Channel's Freaky Friday musical for which Carrafa was choreographer.
"As a result of this comprehensive training," says Carrafa, "he was cast in all three of the major dance scenes."
Carrafa goes on to say that out of the more than 100 dancers involved in the film, Mustapha was only one of about eight dancers cast in all three of those major dance scenes and one of only four dancers selected to be in the cast's skeleton crew, a group of the production's strongest dancers who were responsible for developing the foundation of dance scenes, which were then taught to the greater cast of dancers.
"I was especially impressed with the way in which he was able to regroup and execute complex dance routines, given that the choreography was rapidly evolving and changing," Carrafa says of Mustapha. "He is one of the most talented dancers I have worked with in my career."
Mustapha's successes on screen haven't diminished his love for performing on stage. He enjoys the direct response and invigorating energy of a live audience. Performing recently in one of five leading roles in Sonder, a new production by TwoFourSeven director Carlo Atienza, gave Mustapha a unique opportunity to connect deeply with the struggles of his character. Audience members experiencing their own difficulties were touched by his performance and reached out to him after the show. It's no surprise then that, as a dancer who imagines he might pursue a career in psychology in an alternative life without dance as his focus, Mustapha describes the delve into character development and personal discovery a career highlight.
"The opportunity to perform such a vulnerable piece on stage was a release and so rewarding. Letting large crowds see my heart fully open and heavy has inspired me to live life more openly and to not be afraid to show whatever emotion I am feeling."
This Is It
Mustapha's colleagues and mentors are all quick to describe his immense skill, passion for his work and his ability to enhance a production with his presence. It couldn't be more clear that he will go far on his road in dance.
Yet, for all the praise and accolades, Mustapha says the most rewarding thing about being a dancer is to feel emotions through movement, and to make an audience feel something in turn. A defining moment for him is a simple memory of standing among his siblings on stage as they lingered following his final performance at Dance Spectrum. Having completed a successful show and after basking in the love and support of a huge extended family of peers, teachers and mentors, Mustapha's mind was no doubt considering his future and the new experiences to come with a mix of sentimentality and excitement.
"It was strange because my brothers have no dance ability but they just wanted to feel what it was like to be on stage," he recalls fondly. "It was in that moment I knew I was on the right path."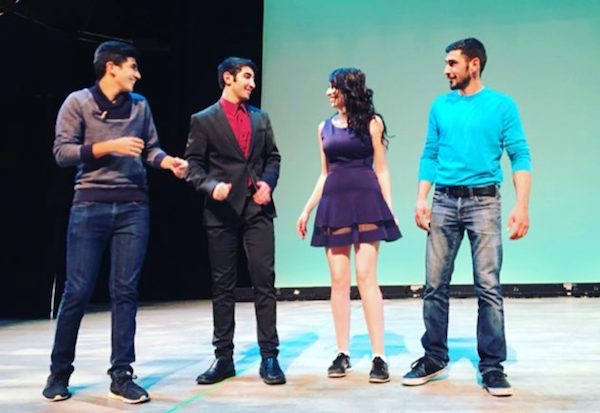 Kindly follow, like or share:
Nichelle Suzanne is a writer specializing in dance and online content. She is also a dance instructor with over 20 years experience teaching in dance studios, community programs, and colleges. She began Dance Advantage in 2008, equipped with a passion for movement education and an intuitive sense that a blog could bring dancers together. As a Houston-based dance writer, Nichelle covers dance performance for Dance Source Houston, Arts+Culture Texas, and other publications. She is a leader in social media within the dance community and has presented on blogging for dance organizations, including Dance/USA. Nichelle provides web consulting and writing services for dancers, dance schools and studios, and those beyond the dance world. Read Nichelle's posts.