Last month, Houston Ballet corps member, Allison Miller, was listed as one of Dance Magazine's 25 to Watch. Selected by fellow dancer (and previous HB 25-list honoree) Melody Herrera, Allison was singled out for two qualities that set a great example for all aspiring dancers.
Allison took a moment to talk to me about being chosen for this year's list, her early training and studies at North Carolina School of the Arts, and about making the awkward leap from student to professional.
Dance Advantage: Congrats on your selection for Dance Magazine's 25 to Watch!

Allison Miller: Thank you!  I was so honored to be chosen by Melody, a dancer I truly look up to.  I've been watching for this list every year since I was a little girl, and it feels wonderful to be included.
DA: Among the list of lovely things Melody Herrera had to say about your dancing, she also mentioned what a great attitude you have. Where does your positive outlook comes from?
AM: I have always been a positive person, I just can't help it!  Being negative takes a lot more energy than being positive--it doesn't help you or anyone around you to be negative.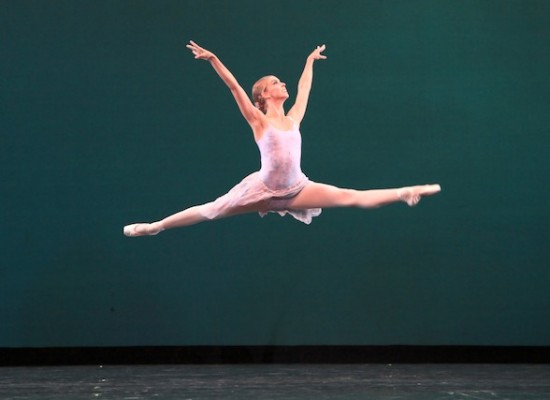 DA: Has your buoyant attitude helped you through certain challenges?
AM: When I was a student, whenever people were negative, I would block it out and stay focused on my own work. The positive attitude my teachers Diane (Partington) and Rey (Dizon) cultivated at their studio reinforced that mindset for me. Dance is a career of ups and downs every day. You are constantly being critiqued and criticized; that's the nature of being in the arts. Trying to keep a positive outlook helps me not take the criticism too hard. All dancers are perfectionists, and we put so much pressure on ourselves, even without anyone else's say. You have to be confident in yourself and your strengths as a dancer.
DA: Ms. Herrera also cited your pure and strong technique. Which parts of a classical technique class do you most look forward to?
AM: I used to dread barre! But I have come to realize that it is incredibly important to maintaining classical technique, especially in a company setting where you have to motivate yourself. These days I enjoy the ritual of warming up and preparing myself for the day at barre. My favorite part of class is jumping, and I also love to turn. I like to join in with the boys and try their tricks or jump at their slower tempos as a challenge.
DA: You studied closer to home in Florida before moving on to the North Carolina School of the Arts (NCSA). What was that transition like?
AM: When I decided I needed to venture away from home, my teachers Diane and Rey were so supportive of my decision. My parents and I did a lot of research and considered all of my options, but when we visited the school I knew it was the place to be. It was a scary but exciting transition as a 15 year old going away to school, but my family made the transition easier by visiting me often.
NCSA was a nurturing environment where I was exposed to so much about life and dance. I had amazing instructors and talented peers, and we all pushed each other to be better. Besides dance, there were other arts majors at NCSA, and being introduced to so many passionate people when I was that young was very influential and inspiring.  NCSA was a place for me to thrive, and I'm so thankful for my time there.
DA: In 2004 you were selected for American Ballet Theatre's Studio Company as a first step into the professional world. What do you recall about that transition?

AM: It was strange. It took some time to get used to. Being in New York and starting my first job with ABT's Studio Company was overwhelming. There are certain things that are suddenly just expected from you. We were lucky to share the studios with the main company and see how they work.
My first few tours, while exciting, were a bit awkward. Getting used to the traveling and performing in new places with strange circumstances was jarring at first, but I soon got the hang of it. I toured a lot in those two years, and I had some amazing performances and trips.
DA: What led you to Houston Ballet in 2006?

AM: After my first year at NCSA, I attended Houston Ballet's summer program and was asked to stay for their year round academy. I declined, too happy with NCSA to leave.  Houston Ballet's summer school was so wonderfully challenging and the company appealing that when relatively jobless in 2006, I attended again. I was offered a corps contract before the summer was over.
DA: Houston Ballet is revisiting Marie (Artistic Director, Stanton Welch's bio-ballet about the life of Marie Antoinette), this season two years after its premiere. How will the production be new for you this time around?
AM: I'm glad to revisit Marie. Marie pushes everyone in the company in terms of acting.  There are some heavy scenes that require real focus from an entire mass of dancers, and the rehearsals often get quite emotional. I will be dancing a few new parts this time around that I'm looking forward to, particularly being involved in Act II's food fight!
Sorry, no food fight footage available but here's a party scene excerpt:
Stanton Welch's Marie, party scene
More on Marie here at houstonballet.org
DA: Do you ever remember considering something other than ballet as a vocation?

AM: A few years ago I got sidelined with a stress fracture in my foot. That forced me to spend some time thinking about life without dance. I love to bake and recently took up sewing clothes. I don't want to stop dancing any time soon, but I'm sure I'll have something creative to do when the time comes. For now, I get to go to work every day and do what I love. Some days are harder than others, but it's all worth it when I get on the stage.
DA: What have been your favorite roles to dance?

AM: I really love dancing Balanchine's ballets. Whether I'm in the corps or have a featured part, I am sure to enjoy myself. Most recently we did Jewels, which was a full evening of Balanchine's works.
DA: What's in the 'someday' category?
AM: I would love the technical challenges that the Sylph in La Sylphide would present.
Thanks, Allison!
What would your fellow dancers say about you?
Allison gave a few reasons why a positive attitude is important in dance. Can you name some others?
What are your questions or fears about taking the next step (to a new level of training or a professional career) in dance?
Kindly follow, like or share:
Nichelle Suzanne is a writer specializing in dance and online content. She is also a dance instructor with over 20 years experience teaching in dance studios, community programs, and colleges. She began Dance Advantage in 2008, equipped with a passion for movement education and an intuitive sense that a blog could bring dancers together. As a Houston-based dance writer, Nichelle covers dance performance for Dance Source Houston, Arts+Culture Texas, and other publications. She is a leader in social media within the dance community and has presented on blogging for dance organizations, including Dance/USA. Nichelle provides web consulting and writing services for dancers, dance schools and studios, and those beyond the dance world. Read Nichelle's posts.