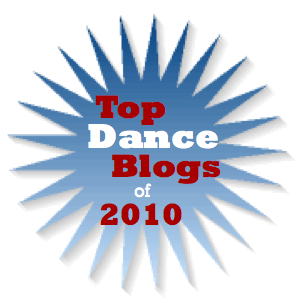 It was a fierce competition in many of the Top Dance Blog categories! You can view the final standings for yourself by clicking View on any of the voting polls here.
The closest race by far was in our Dance News and Criticism group with loveDancemore and Rogue Ballerina separated by only 1% of the votes. However it seemed until the end that it was just about anyone's game in all of the groups. Below are your winners!
———————————————
Winner of the Dance Company or School category:
Uptown Dance
Winner of the Dance News and Criticism category:
loveDANCEmore
Winner of the Dance Student or Beginner category:
You Dance Funny
Winner of the Dance Education and Training category:
Ballet For Me And You
Winner of the Dancer Musings category:
Tights and Tiaras
Top 20
Over 1000 votes were cast in the Top 20 poll! Here are the results:

1. Tights and Tiaras
2. My Son Can Dance
3. Ballet For Me And You
4. Tendus Under a Palm Tree
5. Move. Create. Educate.

TIED

Rogue Ballerina
6. Kiner Enterprises
7. Tutus and Tea
8. loveDANCEmore
9. InfiniteBody
10. Uptown Dance
11. Off Center

TIED

You Dance Funny
12. Inside Ballet Technique
13. Adult Beginner
14. Thin and Dizzy
15. Ballet For Men
16. Footnotes
17. 4Dancers
18. Dave Tries Ballet
Thanks for voting!