My relationship to my body has been, like most women – let alone dancers, quite a journey.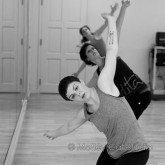 My body, when training as a young dancer, seemed to be a determining factor of what I should do with my career and dance interests rather than a celebration of what I can do and how that joy could inform my path.
At 5'2" and weight ranging as a teen at 115 pounds to an adult at 135 (and up), I was first made aware of the disadvantage of my height, then the roundness and over-development of muscles (I had some gymnastic training as a youngster), then gently pushed to generally lose weight, and ultimately try to fit the mold of whatever company for which I thought, or someone thought, I might be a candidate.
Now, as an adult, I still carry the "shame" of my body not living up to the ideal image but my attitude is changing. I still hear the hurtful words from instructors 15 or 20 years ago but I am starting to be able to see the criticisms don't still apply. Even if they do, it is up to me to determine how much control they have in my life and practices. I finally feel ready to take care of myself and to make choices that are good for me and not just my career. What might have happened if I felt this way 15 years ago? [Read more…] about Your Words and Shaping Healthy Dancers