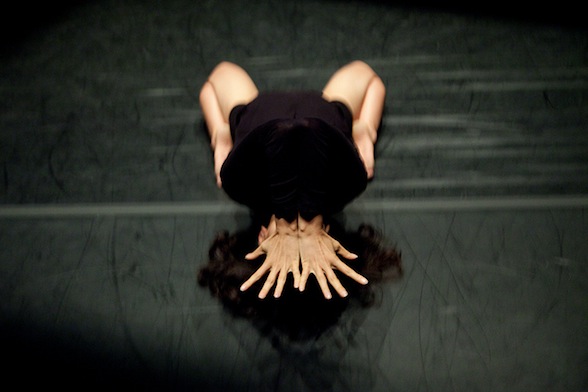 When I first spotted this image in the Sunday Snapshot Flickr pool, I didn't know what to make of it. It seemed like some kind of illusion, or mirror effect. It took a few moments for my brain to make sense of what I was seeing. I wanted to find out more about the image and share it with you.
The image is captured from a performance of "Out There" by Sun-A Lee at the Esplanade Theatre Studio in Singapore on 27th August 2010. Sun-A is a very talented young Korean dancer/choreographer. You can find out more about her and her recent performances at her website www.sunadance.com.
The photographer, Matthew Johnson is based in Singapore and travels throughout Asia. Born in England, he likes to say he was "raised on a diet of Ilford FP4 and Gallerie FB, he has subsequently been reborn into the digital realm." For the photography clueless out there (like me) that's exceptionally fine grain, medium speed black and white film and high quality printing paper.
At the core of Matthew's images, he explains, "is the fascination with people and how they interact with their environment, and the conviction that the act of observation is an active process which drives the outcomes of the world we inhabit." Most recently he has been collaborating with a number of Asian dance companies and orchestras to create a breadth of unique images at a tangent to the art forms from which they derive. His portfolio is available online at photo.mgj.org.