Class apparel has been quite an evolving debate for me ever since I started teaching in public schools.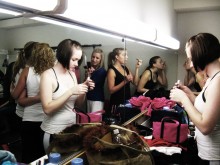 I recognize the value of seeing the body in order to shape the body.
I recognize the advantage of comfort and individuality in promoting confidence.
Pushing traditional dance apparel – leotard, tights, dance pants- makes sense for reinforcing discipline and presentation. Students "look" like dancers, and for those that value that image- this is powerful. Through the clothes, they assume the identity and can become more serious about the work done in class.
On the other hand, I tend to push sensing movement over imitating the pictures in movement.
Yes, guiding students to make technical corrections can be easier when I see the body clearly, but if they are uncomfortable in the class dress code- does it make the most sense given my approach?
For students that don't value the look of a dancer but identify with the feel of dancing, a leotard and tights puts them in the wrong mindset and their discomfort impedes their class performance.
Then, there are other obstacles:
The lack of adequate changing facilities,
The high number of low-income families,
The realities of school budgeting, access to affordable dancewear (families don't have transportation to the local dance store or choose not to shop online for a variety of reasons),
And last but not least- it an be a big waste of time sending a group of tween/teens into a small room with mirrors, echoing walls, and no directly supervising adult (I monitor from the hall) with the task of being efficient (and quiet)!
So what makes sense for my program?
Letting the kids be the judge.
Leading them to make the right decision for themselves.
Giving constructive feedback when I think their decisions might not be the best for achieving their goals.
My latest approach has been not grading them on attire, but more adequately grading their performance in class.

Wearing attire that doesn't support their class work because it is too tight, too short, too low or so on prevents them from dancing their best. So when I talk to them about their performance we don't debate about fashion, we talk constructively about function. It is a natural consequence.
I, therefore, am not the disapproving adult harping on them because I am out of touch. I am the adult that wants them to do their best and asks the right questions so they see what changes they need to make.
Sometimes that means changing into dance apparel for class. Sometimes that means not fighting the school dress code and being better prepared for their entire day.
Our trust remains intact and we both can do our jobs better.
Other interesting conversations about dance fashion, function, and approach to formality:
What are dancers wearing these days in performance? How does it compare/contrast across dance genres?
How has the costuming of dance changed class practices, movement vocabulary?
How do we relate to people based on what they wear? What assumptions do we make?
How do our clothing choices reflect our body image?
How is the body celebrated or shamed in current society?
How does this reflect movement of social dance? theatrical dance? concert dance?
Should classes have uniforms? What would be the advantage? Disadvantage?
This fall I will be using this quote I found on Pinterest to develop a composition unit on some of the ideas listed above. My plan is to cover the mirrors with "Caution" tape with this posted in several places.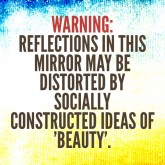 Here is some additional reading on dressing for dance:
The Great Costume Debate: The Controversy Over Age Appropriateness
Writers Offer Dance Wardrobe Wisdom
The Costume "Blackout" Keeps Choreography Center Stage
How will your students be dressing this fall?