As March rolls on, many dance schools are preparing for their end-of-year performances. Routines. Costumes. Dates. Through all the practice and preparation, what can get lost in the shuffle for young dancers is the purpose.
Sharing an experience together, performer and audience member alike, is quite a gift. Dance brings communities together, young and old, people of different cultures, occupations and life experiences.
Teach your students that they have the ability, through dance, to affect and reach others in a positive way. It is not about executing a perfect leap but leaping forward to connect through the art of dance.
Bring the Show on The Road!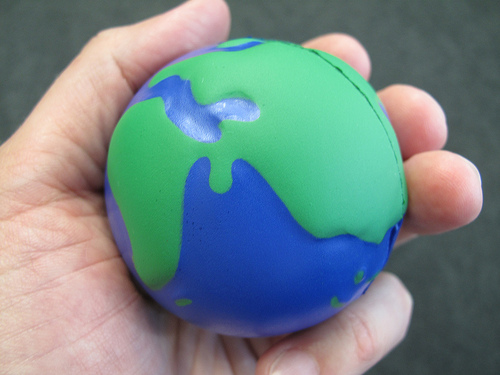 Before your big performance day (and after) add some informal performances to your schedule. Bring your students to senior citizen centers, nursing homes, hospitals or community centers. Have your dancers participate in Earth Day celebrations in your area by performing outside. Create an assembly program for a local nursery school. Perform for a local girl scout troupe. Keep an eye out for any possible performance opportunities in your town. Share the talent of your dancers and create an opportunity to bring the community together.
More reasons to add performances to your already busy schedule:
Practice, practice, practice. The more students perform the better they get at it.  They will be polished and ready to go for the big end-of-year show.
It is a great, low-cost way to advertise! Having a presence in your community is the best way to spread the word about your school. Invite a journalist from the local paper to come and take pictures of your performance at a community center. The local paper is always looking for town stories and it is free advertising.
It is fun! Your students will have a great time because they are getting to do what they love, and you will too!
The audience will also have a great time. Especially if you perform for groups that usually do not get to see dance. People at  senior centers, nursing homes and hospitals do not usually have the ability to go out to see live shows. And some don't get a chance to interact with young people.
It's a challenge. Different spaces have different dimensions. The spaces will not have wings. Your students' spatial awareness will be tested.
It feels different. Since local community groups don't have fancy stage lights and curtains your students will be able to see the audience's faces. As daunting as this can be for your young dancers, it can also be exhilarating for them. When they bow they will able to see the audience smiling back at them. They will be able to experience an immediate connection with the audience and feel  first-hand the power of performance.
Dance is about giving of oneself. There is no better way of teaching this then by giving free performances and traveling to places where people are in need of connections with others.
Delegate, you have enough on your plate!
If you do not have time to find local performing opportunities, schedule performance dates, or organize rides for your dancers, ask for parent volunteers to act as a "performance coordinators." Have them obtain important information about the performance space:
How big is the space?
Is the space carpeted, tile, wood?
Do they have a sound system/CD player or do you need to bring your own?
How many people does the space accommodate?
Is there a backstage space like an empty classroom, staff lounge, etc. to change into costumes?
Can the dancers come an hour before the performance to change and run through their dances?
Get permission to take pictures.
Ask if you can get feedback from the audience after the show. Get some quotes from the audience and the director of the community based center in which you performed.
Remember, this is informal.  It is not supposed to be a fully produced show.
You might choose for your students to wear leotards and tights instead of costumes. You might decide to do only sections of particular dances. Experiment with what works best.
The dancers will have to learn how to compromise, make slight changes and deal with some unknowns. This is a wonderful opportunity for your students to learn about the many obstacles and challenges dancers face when they take the show on the road!
Share your experience with others
At your end-of-year show or recital, list in the program some places you've performed. Add quotes from your community audiences and some pictures as well.
Set up a poster display with pictures, quotes and any newspaper articles. Let parents and friends arriving for the big show learn what your dancers are doing in the community.
Ask for volunteers to help find new community spaces for next year. You are not only creating strong community bonds but your school/studio community will in turn become stronger as well. You are all coming together to dance and share dance with others!  Bravo!