'Tis the season at Ovation TV for another year of Battle of the Nutcrackers!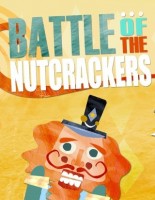 This is the 6th year Ovation is running the contest in which viewers get to vote for their favorite Nutcracker. Six performances featuring companies from all over the world will be shown throughout the holiday season.
Of the 4 competing 'Nuts', vote for your favorite on Facebook and you'll be entered to win a $500 shopping spree.
Viewing begins on the Ovation network on Sunday, November 25.
A new Nutcracker will be shown each Sunday with encore showings airing through Christmas. The viewers' choice, as determined by your votes, will be unveiled on Christmas Eve and you can tune in to an all-day Nutcracker marathon on Christmas Day.
So, which of the gazillion Nutcracker versions can you view and vote for this year?
For a fun comparison, here are the selections, each with a clip of their respective Sugar Plum sequence!
The Nutcracker: Royal Opera Ballet HD (2009)
httpv://www.youtube.com/watch?v=FO3x7XOE1yE
In this magical production of the beloved Christmas classic, members of the Royal Opera Ballet inhabit their roles with a fluid elegance that brings this lush production to life. Miyako Yoshida is a standout, playing the Sugarplum Fairy with finesse. Sets and costumes are sweeping in scope. Audiences will enjoy the spectacle as they watch Clara find her Prince in this dazzling imagination-land of sights and sounds.
Matthew Bourne's Nutcracker!
httpv://www.youtube.com/watch?v=BTP5wS04GBk
A specially televised version of award-winning choreographer Matthew Bourne's interpretation of Tchaikovsky's classic ballet – the Nutcracker. This delicious production is full of pathos and theatrical magic. From a hilariously bleak Christmas Eve at Dr. Dross' Orphanage, to the spectacular candy folk of Sweetieland, Clara's journey passes through Oliver Twist, the Icecapades and the kaleidoscopic fantasy of Busby Berkeley musicals. See why this bold interpretation was an instant hit!
Bolshoi Ballet: The Nutcracker
httpv://www.youtube.com/watch?v=HLvWxxhBajQ
Tchaikovsky's ballet The Nutcracker, which was written in 1891, premiered in St. Petersburg in 1892 and first performed at the Bolshoi Theatre Moscow in 1919, shows no sign of losing its hold as the No. 1 Christmas ballet. It is based on the fairytale 'The Nutcracker' and the King of Mice written by E.T.A. Hoffman and tells the story of the young girl Clara, who dreams of a Nutcracker Prince and a fierce battle against a Mouse King with seven heads. This traditional presentation of The Nutcracker comes to life through the sophisticated choreography of Yuri Grigorovich. It is filled with beautiful music – the Waltz of the Snow flakes and the pas de deux of Sugar-Plum Fairy and Prince have become immortal – as well as enchanting costumes and a fabulous setting at the Bolshoi Theatre in Moscow.
(world premiere)

The Nutcracker: Mariinsky 2012

httpv://www.youtube.com/watch?v=42CfrMNMIZo

A World Premiere Ovation Original Nutcracker, this production brings to life spectacular production values and expansive set decoration that makes the viewer feel like they are a part of Clara's world.

Additional performances airing this year include:
 Nutcracker: San Francisco Ballet (2008)
httpv://www.youtube.com/watch?v=kS6cDV9fcUg
A tradition in the city by the bay since 1944, the San Francisco Ballet, starring Elizabeth Powell, portrays a sparkling rendition of the traditional holiday experience.
Nutcracker: The Story of Clara
httpv://www.youtube.com/watch?v=HY2ypZ5l3-o
Graeme Murphy directs this uniquely Australian Nutcracker in which an aging ballerina reminisces about Nutcrackers past.
Not familiar with Ovation?
The network is available via select cable and satellite providers and has lots of great arts programming (not just dance). It's been a favorite of mine for a number of years. Find Ovation in your area by entering your zip code at ovationtv.com
Which is your favorite Sugar Plum

(of the ones above)

?
Tell us in the comments!
Dance Advantage receives compensation for helping promote Ovation's Battle of the Nutcrackers